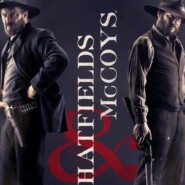 "Hatfields & McCoys" Filmed in Romania?
from: Stop-Runaway-Production.com –
"Hatfields & McCoys" Filmed in Romania? W. Virginia Snubbed Despite Film Incentive
Despite having one of the highest poverty rates in the nation, West Virginia offers a film incentive that covers up to 31% of production expenditures.  Sadly, the producers of the recent History Channel hit mini-series "Hatfields & McCoys" elected to shoot the quintessentially American story, which happened on the borders of West Virginia and Kentucky, in Romania.  Sigh.
Not everyone on the cast, as it turns out, was thrilled about taking the project to Romania.  According to Kevin Costner, the cast and crew "would have preferred to be close to home, and on the Appalachian mountains…but we weren't."  To his credit, Costner was clearly not happy about taking such a "uniquely American story" to Romania at a time "when we're fighting for American jobs":
What did you think, when you found out that you were going to have to trek all the way to Romania to make this uniquely American story?

COSTNER: I should have thought it through clearer. When you fall in love with the girl, you've got to marry her, right? I fell in love with this script, and then found out that we were going to have to leave. I probably should have thought it through more because I have little babies and I was away for two and a half months.

I really appreciated how we were treated while we were there. I was in Transylvania on a full moon. It doesn't get any weirder or better than that. But, in a time when we're fighting for American jobs, suddenly we find ourselves making a quintessential American movie overseas. How do we keep production in the U.S.? I don't know. But, we were served very well by the people out there. They are really strong people. No matter what the weather conditions were, you looked and people were right there with us. It's not how I would have drawn it. I would have preferred it to be in America. But, this is how it played.
Costner said shooting in Romania also meant a lack of "perks" that could have made the production better:
What was the biggest challenge there?

We had no perks over there. Now, when I say "perks," it's not like I'm looking for them. What I'm talking about is production-wise. We couldn't have all the extras we wanted, we didn't have all the bells and whistles when it came to steadycam, we didn't have the kind of budget that is going to substantiate a lot of CG — things that could enhance the production value. We really had to be creative.
Actor Bill Paxton, who starred alongside Costner in the miniseries, said shooting in Romania added "a nice vibe" to the production.  Paxton said he took time to visit Kentucky "to see what it looks like for real" and claimed it shared  "many similarities" with Romania:
"I think that added a je ne sais quoi quality to the whole proceedings.  There's something very gothic about that country. . . . And seeing peasants still pulling oxcarts of wood they've gathered from the forest, I think it added a nice vibe to the thing."

Paxton took a side trip to Kentucky on the way to work in Eastern Europe. "I thought, 'Gee, if I'm going over to Romania to shoot this thing, I better go take a look to see what it looks like for real.' And I was kind of amazed there were so many similarities."
So, why did they shoot "Hatfields &McCoys" in Romania?  As usual, there is one set of proffered(and questionable) reasons the producers give you and the actual reasons they don't like to talk about.  Let's start with the proffered reasons.  In the following video, the filmmakers claim they shot in Romania because they needed a location that lacked things like power & telephone poles, cars and houses:
Apparently, they want you to believe West Virginia doesn't have rural areas not littered with telephone poles, cars, houses or even paved roads.  Really?  In the following video shared by someone living in West Virginia angered about the producers reasons for going to Romania, it is clear West Virginia would have been totally suitable (feel free to skip to 5:39 & 10:26-10:50):
In a post about filming the upcoming Tom Sawyer movie in Eastern Europe, I noted the real reasons producers choose to shoot in Romania:
According to a 2005 Los Angeles Times article, the reason Eastern Europe is cheap is that it is largely "unregulated".  In Romania, for example, workers do not qualify for overtime wages until they work more than 72 hours in a week.   According to one producer, the average daily rate for a production driver in Los Angeles was around $470 in 2005 whereas in Romania it was less than $10.  On the set of 2003′s Cold Mountain, it cost the film more for the use of animal livestock than it did to pay the local actors.  According to the 2005 article, "studio executives are loath to say aloud" that one of major benefits of shooting in places like Eastern Europe was few, if any, unions or watchdog groups to enforce safe working conditions.
But that was in 2005.  Surely things have gotten better, right?  Think again.  In an interview with Esquire Magazine, actress Jenna Malone was refreshingly candid about the substandard crew and conditions on the "Hatfields & McCoys" set, which led to no less than "six or seven" actors ending up in the hospital:
ESQUIRE.COM: Hatfields & McCoys wasn't actually filmed in West Virginia and Kentucky, was it?

JENA MALONE: No, it was actually filmed in Romania.

ESQ: You went to Romania to film a miniseries about a feud in 19th century Appalachia?

JM: It's less industrialized. A third of the country is forest. It's a free-for-all there. You drive for two hours north of Bucharest and you're in the mountains with men who are just hauling logs all day — and these women in traditional clothing driving cattle across these old dirt roads, but on their cellphones. It's very strange.

ESQ: And it's a huge cast. It seems like it would be hard to manage out in the Romanian wilds.

JM: It was definitely insane. And we had really bad horses. There were horse trainers there, but they were very, very horrible horse trainers, and six or seven actors ended up in the hospital. I'm just glad that we made it out alive, to be honest. It got dark.

ESQ: Like Heart of Darkness dark?

JM: It definitely got pretty dismal. Bucharest is a very dark town. The food is bad, the people are angry —

ESQ: That probably helped set the tone for the show. It's not exactly light-hearted fare. I read that the director, Kevin Reynolds, and Kevin Costner had previously butted heads. Was there tension between them on-set?

JM: Oh, no. You read those things about "butting heads" and it's just because you have two creative men wanting to make something. I feel like they worked really well together. We were losing time, we were losing actors in the hospital. Kevin stepped up and started directing second unit, Kevin Reynolds shot twelve pages a day in the snow in the middle of nowhere, driving three hours to location. Literally everything that could have gone wrong went wrong on this film, but you can't tell.
In the end, however, the real victim here was the people of West Virginia and/or Kentucky.  When "Super 8″ filmed on-location in West Virginia, the film not only boosted their economy for a short time, 
it boosted their pride
:
The mood in Weirton during the filming was unmistakable. "It was a boost to their pride for a town that's been hit a lot by the downturn in the steel industry," Ms. Haynes said.

"This town is a very depressed town," said Betty Duffy, a biology teacher at Weirton High. "Because of the steel industry, we don't have jobs. But this — Anyone I was talking to, what would we talk about? The movie.

"My whole life was, I'd get home, and my sister and I would go stalking," Ms. Duffy said. "The main thing was the morale. You'd talk to strangers like they were your friends."
I am not a fan of state film incentives.  However, a project like "Hatfields & McCoys" is exactly the type of show that should take advantage of them.  When you shoot in the place where the story is set, you maximize the exposure for the locale and increase the chances for residual film tourism.  Given the ratings the miniseries got, it seems like West Virginia could have benefited and the state could have had the same morale-boosting experience they had from "Super 8″.   If you have time, I urge you to watch the impact "Super 8″ had on West Virginia: