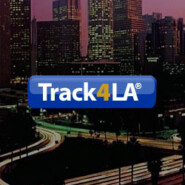 City of L.A. Requires Use of Track4LA® to Submit Certificates of Insurance for Filming
Effective immediately, the City of Los Angeles Risk Management Department is requiring that film production companies use Track4LA®, the City's online insurance and bonds compliance system, to submit Certificates of Insurance (COI) for approval. Going forward, this will be the only approved method of submission for production insurance certificates for filming at City locations.
Track4LA® (www.track4LA.lacity.org) is a self-service insurance approval and verification system that is used by insurance brokers and allows online submission of film company insurance documents on a 24/7 basis. Documents submitted using Track4LA® receive immediate, electronic approval of insurance that meets the City's minimum insurance requirements. Production company representatives can also use the system to verify certificate submission by their brokers and confirm insurance approval.
If you have any questions about Track4LA®, please contact the City of Los Angeles' Risk Management team at 213.978.7475. You can also contact FilmL.A's Insurance Specialist, at (213) 977-8662 with any questions.