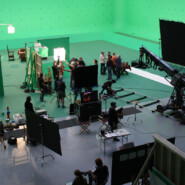 L.A.'s Share of TV Dramas Sees "Dramatic" Decline
from: FilmWorksLA.com –
FilmL.A. Pilot Report: L.A.'s Share of TV Dramas Sees "Dramatic" Decline
Earlier this month, FilmL.A. released its fifth report from its eight-year study of television pilot production.  The report presented a mixed bag of findings:
FilmL.A.'s official count shows that 152 broadcast and cable television pilots were produced during the '11/'12 development cycle, making the past year the second most productive on record. Out of those 152 television pilots, a total of 92 projects were filmed in the Los Angeles region.
While the outlook for comedy pilots was fantastic, L.A.'s share of drama pilots saw a "dramatic" decline:
In '11/'12, the Los Angeles region captured just 29 percent of all television drama pilots produced, but 91 percent of all television comedy pilots….

Drama pilots, however, continue to flee their traditional home.  During the last three development
cycles, drama pilots were filmed outside the L.A. region by a ratio of more than 2–to-1.

This is significant, because four production cycles ago (in '08/'09), the L.A. region still attracted 38 percent of total drama pilots.   Six development cycles  ago  (in  '06/'07),  L.A.'s drama share was 63 percent.
Indeed, since just 2010, the decline of one-hour dramas has been steep.  In fact, for the upcoming fall season lineup, L.A. "is heading into the fall season accounting for less than 50 percent of the network screen time devoted to primetime scripted dramas":
In what shouldn't surprise anyone, the presence of film incentives in other states and nations contributed to the local decline:
Over the years, other jurisdictions have enticed away much of the L.A. region's historical TV drama pilot production share. The availability of financial production incentives and production infrastructure
are key factors influencing where pilot producers choose to film.
During the '11/'12 development cycle, 92 television pilots were filmed on Los Angeles streets and stages. Another 60 pilots — of which 53 were coveted one hour drama projects — were produced outside the region in competing jurisdictions….

Some form of production incentive was available in every one of the non-California locations used during the '11/'12 development cycle. Drama producers use incentives to offset the increased cost of long-distance production while affording higher-end production values.
The following chart from the report shows ongoing changes in where television pilots are filmed:
FilmL.A. President Paul Audley said that with the rise of out-of-state film incentives and the subsequent decline in drama pilots, L.A. "is settling into a new normal":
We think L.A. is settling into a new normal.  Without a more competitive California tax incentive program,
Los Angeles will find it hard to increase its share of total TV drama production.

Of course, having comedies made in town is a boon for L.A. It leaves us vulnerable, though. The comedy
genre is cyclical and there's little to prevent single-camera comedies from following dramas out-of-state. Our economy would be well-served were the region to  attract a more diversified slate of productions.
On the bright side, the economic impact of the most recent pilot season was significant.  According to FilmL.A., direct production spending alone was roughly $262 million and each pilot employed approximately 150 people for the duration of the project:
Typical pilot production costs, having risen over the years, now average about $2 million (for comedy pilots) and $5.5 million (for drama pilots). Presentations, which are sometimes made in lieu of pilots, cost up to 40 percent less to produce than full length pilots.

Based on these figures, FilmL.A. estimates that approximately $262 million was spent on television pilot production in Los Angeles during the '11/'12 development cycle.
Based on the numbers above, that means almost 14,000 Californians were employed on just the 92 pilots that shot in L.A. during the most recent cycle!  That is how Film Works for California!  Visit FilmL.A.'s website and download the report if you'd like to read more.