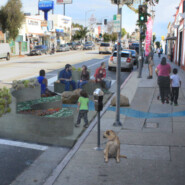 Production Alert: "Parklets" To Be Installed In Council District 14
from: FilmLA.com –
FilmL.A. has been advised that the construction of multiple "parklets" will soon begin in Downtown L.A., Highland Park and El Sereno. A parklet is a small urban park, often created by replacing several parallel parking spots with a patio, planters, trees, benches, café-tables with chairs, fountains, artwork, sculptures and or bicycle parking.
Two parklets will be installed on the west side of Spring St., between 6th and 7th streets (611 – 615 S. Spring St. and 639 S. Spring St.) starting Monday, February 4th and ending Thursday, February 7th, 2013. A press event will follow at 639 S. Spring St. at 9 a.m. on Friday, February 8th , 2013. The parklets are intended to encourage pedestrian traffic.
Subsequent parklet locations are 5030 York Drive and 4910 Highland Drive in Highland Park. Construction for these is scheduled to occur between February 11th and 22nd, 2013.
Below are some renderings of the new Parklets on Spring St.