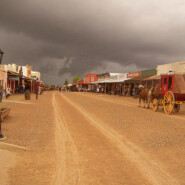 $2.1 Billion Film Incentive Bill Dies in Arizona
from: FilmWorksLA.com –
Fantastic news for California film crews!
A bill that would have authorized the largest domestic film incentive allocation ever ($2.1 billion) died in the Arizona House of Representatives this week.  The proposed bill would have allowed for a 20% cash refund on all qualified production expenditures and up to 30% if producers hired Arizona labor and used approved production facilities.
Contributing to the bill's failure was a study by the Arizona Department of Commerce that showed the state would generate too little revenue from filming to offset the cost of the program.
Also not helping was an entertaining anti-incentive video produced by the Arizona Free Enterprise Club. We're glad this line of argument doesn't apply to the California Film & Television Tax Credit: