Wade Stevens, CFO of Film This!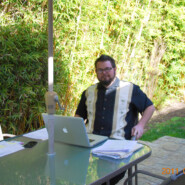 Wade Stevens began his film and television production career with a well-known permit service, and later went to work for the EIDC (now FilmLA.com).
Wade Stevens has been working in the entertainment industry for more than fifteen years.
During his stay with the EIDC, Wade managed the field services department which included the notification and delivery team. He reviewed signature surveys and coordinated film permits.
After that, Wade managed a field service team for nearly four years.
In January of 2003 Wade teamed with Tim to start Film This! One of the goals of Film This! is to build a diverse signature survey team. Wade and Tim have also developed a verifiable notification system.
This knowledge will be used to make sure your production receives everything that has been requested in a cost effective and timely manner. With hundreds of signature, notification and posting jobs completed, you can rest assured that you're in good hands!