Notification Services by Film This!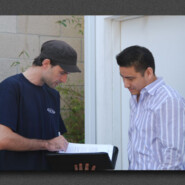 Most cities require productions to notify affected neighborhoods of proposed filming activity. Failure to adequately inform all the local residences and businesses can be catastrophic to your production.

Cover all the bases with accurate and effective notification services by Film This!
Film This! maintains a complete and up-to-date database on each city's notification requirements. This ensures your notifications go out on time and to the exact specifications of the city in which filming is to take place.
We construct a notification letter, get the letter approved by the city, and distribute the letter throughout the required radius.
The end result: peace of mind for your production, knowing all affected residents and merchants have been properly notified and have had a chance to voice their concerns before filming takes place.
Film This! believes a well-informed neighborhood allows for good communication and helps the production in getting the shot.
Some productions require absolute certainty that the neighborhood has proper notification. To that end, Film This! offers a verifiable notification service. Call Wade for details at 213-763-9000 for details.
All signatures and notifications are available in Spanish, Russian, French and Arabic. We also offer translation services in any of these languages.