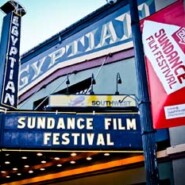 2013 Sundance Film Festival Announces Winners
from: Dyana Carmella, P3update.com –
Filmmakers were energized as awards were announced for the top films at this year's Sundance Film Festival. The closing-night awards ceremony was hosted by Joseph Gordon-Levitt in Park City, Utah. "The films at our Festival this year truly reflect the unbridled passion, immense talent and diverse stories coming from the independent filmmaking community," said Festival Director John Cooper.
"I am confident that the awards presented this evening will fuel those films with special promise, and that audiences will continue to champion the films they have discovered here." A total of 119 feature-length films from 32 countries and 65 short films were presented at Sundance 2013. These films were selected from a record 12,146 submissions, including 4,044 features and 8,102 shorts, and 103 of the feature films were world premieres.
The award winners at the 2013 Sundance Film Festival were:
U.S. Grand Jury Prize Documentary for Blood Brother (Director: Steve Hoover) — Rocky went to India as a disillusioned tourist. When he met a group of children with HIV, he decided to stay, but he never could have imagined the obstacles he would face or the love he would find.
U.S. Grand Jury Prize Drama for Fruitvale (Director/Screenwriter: Ryan Coogler) — The true story of Oscar, a 22-year-old Bay Area resident who crosses paths with friends, enemies, family and strangers on the last day of 2008.
World Cinema Grand Jury Prize Documentary for A River Changes Course (Director: Kalyanee Mam, Cambodia/U.S.A.) — Three young Cambodians struggle to overcome the crushing effects of deforestation, overfishing and overwhelming debt in this devastatingly beautiful story of a country reeling from the tragedies of war and rushing to keep pace with a rapidly expanding world.
World Cinema Grand Jury Prize Drama for Jiseul (Director/Screenwriter: Muel O, South Korea) — In 1948, as the Korean government ordered the Communists' eviction to Jeju Island, the military invaded a calm and peaceful village. Townsfolk took sanctuary in a cave and debated moving to a higher mountain.
Audience Award U.S. Documentary for Blood Brother (Director: Steve Hoover)
Audience Award U.S. Drama for Fruitvale (Director/Screenwriter: Ryan Coogler)
Audience Award World Cinema Documentary for The Square (Al Midan) (Director: Jehane Noujaim, Egypt/U.S.A.) — What does it mean to risk your life for your ideals? How far will five revolutionaries go to defend their beliefs in the fight for their nation?
Audience Award World Cinema Drama for Metro Manila (Director: Sean Ellis, Screenwriters: Sean Ellis, Frank E. Flowers, UK/Philippines) — Seeking a better life, Oscar and his family move from the poverty-stricken rice fields to the big city of Manila, where they fall victim to various inhabitants whose manipulative ways are a daily part of city survival.
Audience Award Best of NEXT for This Is Martin Bonner (Director/Screenwriter: Chad Hartigan, U.S.A.) — Martin Bonner has just moved to Reno for a new job in prison rehabilitation. Starting over at age 58, he struggles to adapt until an unlikely friendship with an ex-con blossoms, helping him confront the problems he left behind.
Directing Award U.S. Documentary for Cutie and the Boxer (Director: Zachary Heinzerling) — This candid New York love story explores the chaotic 40-year marriage of famed boxing painter Ushio Shinohara and his wife Noriko. Anxious to shed her role of assistant to her overbearing husband, Noriko seeks an identity of her own.
Directing Award U.S. Drama for Afternoon Delight (Director/Screenwriter: Jill Soloway) — In this sexy, dark comedy, a lost L.A. housewife puts her idyllic life in jeopardy when she tries to rescue a stripper by taking her in as a live-in nanny.
Directing Award World Cinema Documentary for The Machine Which Makes Everything Disappear (Director: Tinatin Gurchiani, Georgia/Germany) — A film director casting for a 15- to 23-year-old protagonist visits villages and cities to meet people who answer her call. She follows those who prove to be interesting enough through various dramatic and funny situations.
Directing Award World Cinema Dramatic for Crystal Fairy (Director/Screenwriter: Sebastián Silva, Chile) — Jamie invites a stranger to join a road trip to Chile, but the woman's free and esoteric nature clashes with Jamie's acidic, self-absorbed personality as they head into the desert for a Mescaline-fueled psychedelic trip.
Waldo Salt Screenwriting Award U.S. Drama for In a World… (Director/Screenwriter: Lake Bell) — An underachieving vocal coach is motivated by her father, the king of movie-trailer voiceovers, to pursue her aspirations of becoming a voiceover star. Amidst pride, sexism and family dysfunction, she sets out to change the voice of a generation.
Screenwriting Award World Cinema Dramatic for Wajma,an Afghan Love Story(Director/Screenwriter: Barmak Akram, Afghanistan) — A young man in Kabul seduces a girl, but after she tells him she's pregnant, he questions having taken her virginity. When her father arrives, a timeless, archaic violence erupts, possibly leading to a crime and a sacrifice.
Editing Award U.S. Documentary for Gideon's Army (Director: Dawn Porter) — Three young, committed public defenders are dedicated to working for the people society would rather forget. They endure standard long hours, low pay and staggering caseloads that would force the most committed to give up.
Editing Award World Cinema Documentary for The Summit (Director: Nick Ryan, Ireland, UK) — Twenty-four climbers converged at the last stop before summiting the most dangerous mountain on Earth. Forty-eight hours later, 11 had been killed or simply vanished. Had Ger McDonnell stuck to the climbers' code, he might still be alive.
Cinematography Award U.S. Documentary for Dirty Wars (Filmmaker: Richard Rowley) — Investigative journalist Jeremy Scahill chases down the truth behind America's covert wars.
Cinematography Award U.S. Drama for Ain't Them Bodies Saints (Cinematographer: Bradford Young, Director/Screenwriter: David Lowery) — The tale of an outlaw who escapes from prison and sets out across the Texas hills to reunite with his wife and the daughter he has never met.
Cinematography Award U.S. Drama for Mother of George (Cinematographer: Bradford Young, Director: Andrew Dosunmu) — A story about a woman willing to do anything and risk everything for her marriage.
Cinematography Award World Cinema Documentary for Who Is Dayani Cristal? (Director: Marc Silver, UK) — An anonymous body in the Arizona desert sparks the beginning of a real-life human drama. The search for its identity leads us across a continent to seek out the people left behind and the meaning of a mysterious tattoo.
Cinematography Award World Cinema Drama Lasting (Director/Screenwriter: Jacek Borcuch, Poland/Spain) — An emotional love story about two Polish students who fall in love while working summer jobs in Spain. An unexpected nightmare interrupts their carefree time in the heavenly landscape and throws their lives into chaos.
U.S. Documentary Special Jury Award for Achievement in Filmmaking for Inequality for All (Director: Jacob Kornbluth) — Noted economic-policy expert Robert Reich distills the topic of widening income inequality, and addresses the question of what effects this increasing gap has on our economy and our democracy.
U.S. Documentary Special Jury Award for Achievement in Filmmaking for American Promise (Directors: Joe Brewster, Michèle Stephenson) — The 12-year journey of two African-American families pursuing the promise of opportunity through the education of their sons.
U.S. Dramatic Special Jury Award for Acting for The Spectacular Now (Actors: Miles Teller and Shailene Woodley, Director: James Ponsoldt) — A high school boy who lives for the moment attempts to "save" an introverted girl. As their relationship deepens, the lines between right and wrong, friendship and love, and saving and corrupting become inextricably blurred.
U.S. Dramatic Special Jury Award for Sound Design for Upstream Color (Sound Designer: Johnny Marshall, Director/Screenwriter/Cinematographer: Shane Carruth) — A man and woman are drawn together, entangled in the life cycle of an ageless organism. Identity becomes an illusion as they struggle to assemble the loose fragments of wrecked lives.
World Cinema Dramatic Special Jury Award for Circles (Director: Srdan Golubovic, Serbia/Germany/France/Croatia/Slovenia) — Five people are affected by a tragic heroic act. Twenty years later, all of them will confront the past through their own crises. Will they overcome guilt, frustration and their urge for revenge? Will they do the right thing, at all costs?
World Cinema Documentary Special Jury Award for Punk Spirit for Pussy Riot – A Punk Prayer (Directors: Mike Lerner, Maxim Pozdorovkin, Russian Federation/UK) — Three young women face seven years in a Russian prison for a satirical performance in a Moscow cathedral. But who is really on trial: the three young artists or the society they live in?
Short Film Audience Award (presented by YouTube and based on web traffic for 12 short films screened at the Festival and featured on the Screening Room) for Catnip: Egress to Oblivion? (Director: Jason Willis, U.S.A.) — Catnip is all the rage with today's modern felines, but do we really understand it? This film frankly discusses the facts about this controversial substance.
The following Festival awards were presented at separate ceremonies:
Jury prizes and honorable mentions in short filmmaking were presented at a ceremony in Park City, Utah on January 22.Short Film Grand Jury Prize went to The Whistle (Director: Grzegorz Zariczny, Poland).
Short Film Jury Award U.S. Fiction went to Whiplash (Director/Screenwriter: Damien Chazelle).
Short Film Jury Award International Fiction went to The Date (Director/Screenwriter: Jenni Toivoniemi, Finland).
Short Film Jury Award Non-fiction went to Skinningrove (Director: Michael Almereyda, U.S.A.).
Short Film Jury Award Animation went to Irish Folk Furniture (Director: Tony Donoghue, Ireland).
Short Film Special Jury Award for Acting went to Palimpsest (Actor: Joel Nagle, Director: Michael Tyburski, U.S.A.).
Short Film Special Jury Award went to Until the Quiet Comes (Director/Screenwriter: Kahlil Joseph, U.S.A.).
The winning directors and projects of the Sundance Institute | Mahindra Global Filmmaking Award, in recognition and support of emerging independent filmmakers from around the world, are: Sarthak Dasgupta, The Music Teacher(India); Jonas Carpignano, A Chjana (Italy/U.S.A.); Aly Muritiba, The Man Who Killed My Beloved Dead (Brazil); and Vendela Vida & Eva Weber, Let The Northern Lights Erase Your Name (UK/Germany/U.S.A.). The Sundance/NHK International Filmmaker Award, honoring and supporting emerging filmmakers, was presented to Kentaro Hagiwara, director of the upcoming film Spectacled Tiger. The winning documentaries of the second annual Hilton Worldwide LightStay Sustainability Awards, selected by the Sundance Institute Documentary Film Program and Fund with Hilton Worldwide, are: Revolutionary Optimists (Directors: Nicole Newnham and Maren Grainger-Monsen) and Hungry(Director: Sandy McLeod). An honorable mention was awarded to Studio H (Director: Patrick Creadon). The short filmJungle Fish (Director: Louisiana Kreutz) received $5,000.
The 2013 Indian Paintbrush Producer's Award and $10,000 grant was presented to Toby Halbrooks and James M. Johnston for Ain't Them Bodies Saints.
The Alfred P. Sloan Feature Film Prize, presented to outstanding feature films focusing on science or technology as a theme, or depicting a scientist, engineer or mathematician as a major character, was presented to Computer Chess (Director/Screenwriter Andrew Bujalski). The film received a $20,000 cash award from the Alfred P. Sloan Foundation.
The 2013 Sundance Film Festival Jurors were:
U.S. Documentary Competition: Liz Garbus, Davis Guggenheim, Gary Hustwit, Brett Morgen, Diane Weyermann; U.S. Dramatic Competition: Ed Burns, Wesley Morris, Rodrigo Prieto, Tom Rothman, Clare Stewart; World Cinema Documentary Competition: Sean Farnel, Robert Hawk, Enat Sidi; World Cinema Dramatic Competition: Anurag Kashyap, Nadine Labaki, Joana Vicente; Alfred P. Sloan Award: Jon Amiel, Paula Apsell, Darren Aronofsky, Scott Z. Burns, Dr. André Fenton, Dr. Lisa Randall; Short Film Competition: Mike Farah, Don Hertzfeldt, Magali Simard.
A complete list of Sundance films and events is available at www.sundance.org/festival.