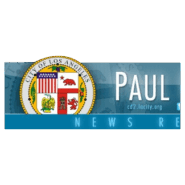 2nd Annual L.A. Student Media Festival
Friday, January 13, 2012
Contact: Jeremy Oberstein, (213) 359-8506
Jury Panel, Prizes Announced for Student Media Festival
LOS ANGELES – The jury panel for the 2nd annual Los Angeles Student Media Festival, the county's only film festival solely for high school students, was announced today. The LASMF, set for March 10, 2012, at the historic El Portal Theatre in the NoHo Arts District, continues to attract films from throughout Southern California as the Jan. 20 deadline fast approaches for student's to submit their works of art.
Returning for their second year as jurors are Adam Belanoff, writer and producer of The Closer and Carla Garapedian, former BBC World News anchor. Rounding out the LASMF jury panel are Danielle Brazell, Executive Director of Arts for LA; Roxann Dawson, director, actress and producer, whose credits include The O.C.; Richie Duchon, L.A. City Hall reporter for City News Service and former web producer for KCET's Emmy award winning news magazine SoCal Connected; Melinda Farrell, director and founder of the Sustainable Media Studio and former Deputy Director of the California Film Commission; Ed Gutentag, Cinematographer/camera operator who founded the advocacy group Shoot Movies in California; Monica Hicks, Communications Associate for the McGroarty Arts Center in Tujunga; Suzanne Isken, Executive Director of the Craft and Folk Art Museum; Bruce Postman, Director of Recruitment at Columbia College Hollywood, and former screenwriting instructor at NYU's Tisch School of the Arts; Veronique Vowell, film and television location manager, whose credits include Cold Case and Curb Your Enthusiasm; Doug Ward, Academic Administrator and animation department lecturer at the UCLA School of Theater, Film and Television.
"It's an honor to be part of the Los Angeles Student Media Festival knowing that I'll have the opportunity to help cultivate future artists who will fuel not only our creative economy but our a new crop of civically engaged entrepreneurs," Danielle Brazell, Executive Director of Arts for LA. "I know the students will get an immense amount of enjoyment by taking part in this one of a kind festival, especially with such an esteemed panel of jurists guiding them on their artistic path."
One film will be awarded the "Best of Show" prize, which includes a $1,000 scholarship for the winning student/team. Additional prizes include lunch meetings at studio lots with industry professionals, such as with CBS Studio Center President Michael Klausman and comedy writer/director Roger Nygard (Trekkies, The Office, Curb Your Enthusiasm).
Students have until Jan. 20, 2012, to submit films. For more information, check lasmf.lacity.org.
Councilmember Paul Krekorian represents Los Angeles' Second Council District, which includes the east San Fernando Valley and the foothills. His website is cd2.lacity.org, where you can sign up for news updates or visit him on Twitter (@PaulKrekorian) or Facebook.