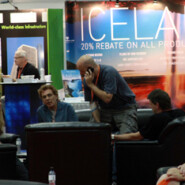 AFCI Locations Show: Film Commissioners Hit L.A.
from: P3update.com –
On June 27–29, Los Angeles will once again play host for the annual Association of Film Commissioners International (AFCI) Locations Show. Film commissioners from across the globe will reunite downtown at the L.A. Convention Center to discuss production funding, locations, crewing, tax incentives and other important regional filming services.
The Locations Show was developed by the AFCI to provide industry professionals with important tools and insights necessary to compete in today's competitive marketplace. Film commissions are the first point of contact for information on free support and financial incentives that can help move film and television projects into production. They're also a key provider of information on film festivals, distribution opportunities and film tourism. The annual AFCI event offers attendees a unique opportunity to meet with these film commissions that collectively provide over $2.5 billion in annual funding.
This year's trade show is shaping up to be exceptional three-day event. More than 160 exhibitors from 40 countries are expected to grace the convention center. 
Many of these exhibitors are expected to arrive with the latest location news and incentive options that will communicate why their localities should be considered as a filming destination. Visitors will also have the opportunity to attend an array of educational sessions and seminars. For the first time, TheWrap will present its unique conference "TheGrill" at the AFCI Locations Show. For a fee that's reduced if you preregister for the Show, attendees can join industry leaders in film financing and global production for a full day of conversations led by TheWrap Editor-in-Chief Sharon Waxman. TheGrill will take place on June 28 from 9 a.m. to 4 p.m.
The 2013 AFCI Locations Show is clearly a vital event for industry professionals that range from producers and directors to production managers, location managers and others working in film and television production. There is no fee required to attend the AFCI Locations Show.
To preregister, visit www.afcilocationsshow.com.