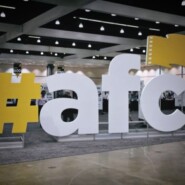 AFCI Locations Show: New Locale for the International Film Commissioners' Showcase
from: P3update.com –
Film commissioners from across the globe will come together to discuss production funding, locations, crewing, tax incentives and important regional filming aspects at the 2014 AFCI Locations Show in Los Angeles, Calif. This yearly industry event, championed by the Association of Film Commissioners International (AFCI), will be held at the Hyatt Regency Century Plaza from March 27-29, 2014.
The Locations Show was developed by the AFCI to provide industry professionals with important tools and insights necessary to compete in today's competitive marketplace. More than 160 exhibitors from 40 countries are expected to grace the Hyatt Regency floors during the three-day event. Many of these exhibitors are expected to arrive loaded with location news and incentive options that will communicate why their localities should be considered as a filming destination.
On Saturday, March 29, the Hollywood Reporter will present a panel titled "Secrets of Hollywood Power Producers" that will include producers Doug Wick (The Great Gatsby, Divergent) and Lynda Obst (The Invention of Lying, Hope Floats) among others.
Click here to see the entire lineup of speakers.
The AFCI Locations Show is clearly a vital event for industry professionals seeking access to information on the funds, locations and services essential to producers, directors, production managers, location managers and others working in film and television production.
There is no fee required to attend the AFCI Locations Show.
Click here to view list of exhibitors.
Click here to register.
A brand-new addition to the show this year is the Locations Show App which allows attendees and film commissions to connect with each other before and after show.
Following the show on Saturday March 29th, The Location Managers Guild of America (LMGA) is holding their inaugural awards show at the Writers Guild Theater where two-time Academy Award winners Alexander Payne and Haskell Wexler, as well as respected commercial location scout Scott Dewees, will receive honorary awards.
Click here for tickets to awards show.