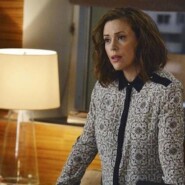 Alyssa Milano Quitting 'Mistresses' Over Vancouver Move
from: Brent Furdyk, ET Canada –
Yesterday's announcement that ABC was renewing its soapy summertime series Mistresses for a third season was great news for everyone involved — everyone, that is, except star Alyssa Milano, who has decided that when the production moves from L.A. to Vancouver next season, she can't be a part of it.
"After two wonderful seasons in Los Angeles, the studio has decided to shoot season three of Mistresses in Vancouver, Canada for financial reasons," she explains in posts on Twitter and Facebook. "It's with a heavy heart that I have decided that I can't relocate. I have two babies under 4. Being a mother and wife comes first and I just can not uproot my children and separate the family by moving away."
Alyssa admits it was a very difficult decision to leave a show she loved doing, but her family comes first. "I will miss this job desperately," she concludes, "and wish everyone the absolute best."
ABC has yet to comment on how the show's storyline next season will deal with the exit of its key protagonist.