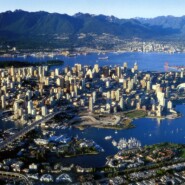 Are the Curtains Falling on Hollywood North?
from: Stop-Runaway-Production.com –
Are the Curtains Falling on Hollywood North? Despite Record Highs, BC Film Biz Says Yes
The film industry clustered around Vancouver, British Columbia (B.C). is engaged in some baseless fear mongering (at least elements of it are).  I am a big fan of some of the campy horror movies B.C. cranks out, but this tall tale of horror takes the cake.
A recent article in the The Globe & Mail, titled "Fears mounting over B.C. film production", revealed what is causing some of the jitters:
Of the pilots shot in Vancouver, the U.S. networks have picked up only four: Arrow;Emily Owens, MD; Cult and Red Widow. Meanwhile, Alcatraz, The Secret Circle and the Canadian sci-fi series Sanctuary were cancelled. Fringe was put on notice that it would just one more season on Fox.

Coupled with a disappointing number of features, none of this is what the industry needs to calm fears over its future. And with a high Canadian dollar, the imminent disappearance of the film-friendly HST, and – the real evil stepmother in this story – a lack of parity on tax credits, the B.C. production industry is now looking to protect its billion-dollar industry. One step is lobbying the province on tax credits. Another: aiming at a national film strategy.
(More on that last sentence in a follow-up post later this week.)
It appears a certain degree of self-entitlement is now taking hold in "Hollywood North", where locals used to decry those in the US who complained about runaway production in years past.  My, how the tables have turned:
"They're shooting a feature called Pacific Rim in Ontario," says Peter Mitchell, president and chief executive officer of Vancouver Film Studios, referring to the Guillermo del Toro film shot in Toronto earlier this year. "I mean, come on."

B.C. production types like to play down the competition with Ontario, but there were quiet gasps when industry figures came out earlier this year. While 2011 saw a 16-per-cent increase for B.C., it slipped to the No. 4 ranked production centre in North America, with $1.19-billion in production compared with Ontario's $1.26-billion.
Because the title of del Toro's film is "Pacific Rim", Mitchell thinks it's criminal not to shoot it in Vancouver because it's on the actual Pacific Rim.  Um, so is Los Angeles (among countless other cities).  It's faux outrage, however, as film backers are also lamenting the loss of the show "Alcatraz".  Did that one belong in Vancouver?  Probably not.
In fact, since most of the activity in B.C. is from US productions (over 80%), it's debatable if the Province is entitled to any of it.  That said, they are certainly paying for it (more on that below).  Nevertheless, according to the article, Vancouver "lost" the new Wolverine movie to Australia and no less than two productions to Louisiana that "some feel belonged in B.C.":
Vancouver lost the big feature The Wolverine to Sydney, after the Australian government offered a $12.8-million (Australian) tax incentive to the X-Men sequel. And some U.S. states are offering generous (some argue unsustainable) tax credits, including Louisiana. New Orleans is calling itself Hollywood South these days, and has lured a couple of features that some feel belonged in B.C.: Vancouver native Seth Rogen's The End of the World, currently shooting in New Orleans, and 21 Jump Street, based on the Vancouver-shot TV series.
Since "The Wolverine" was originally going to shoot in Japan before settling on Australia, it's unclear how Vancouver "lost" a film they never had in the first place.  In fact, since the last Wolverine movie shot mostly in Australia, they would probably argue it "belonged" down under.  More ridiculous is the suggestion that all Seth Rogen films should shoot in Vancouver because he is from there (he now lives primarily in LA, but let's ignore that).  And while "21 Jump Street" may have shot its TV run in Vancouver, it was set in a fictional American city and the stars of the cast (like Johnny Depp) were native to America.  Following the "native-born" theory they apply with Rogen, perhaps they should get over losing "21 Jump Street".
But, as the article points out, not all sectors are hurting:
The digital-animation and visual-effects sector meanwhile, has seen substantial growth. Major players such as Pixar, Sony Pictures Imageworks and George Lucas's Industrial Light and Magic have set up shop in Vancouver. And local companies are growing to accommodate the demand.

"This is now a destination for Hollywood," says Jason Dowdeswell with Image Engine, a Vancouver company that established itself with its Oscar-nominated work on Neill Blomkamp's District 9. "We have what I call the three Ts: the tax credit, the talent and the time zone."

The 17.5-per-cent Digital Animation and Visual Effects (DAVE) tax credit has helped to boost the industry to the point where there are almost 20 major visual-effects houses operating in Vancouver.
This begs the question, are things really "bad" in B.C. at all?  Let's take a look at last year's numbers:
It seems they have little to fear.  Last year saw a record high 281 productions.  Total production spending spiked 16% in 2011 over the previous year.    At $1.2 billion in spending, they are less than $250 million shy of 2003′s all-time high of $1.4 billion. Finally, 2011 was one of the best years on record since 1997, when total spending was "just" $631 million.
Almost all of the foreign projects and foreign spending is from the US.  As The Globe & Mail noted, the VFX sector is booming in Vancouver.  In 2006 & 2007, of the 54 US feature film projects shot in B.C., four were for VFX only (principal photography was done elsewhere).  By 2011, of the 50 US features that spent money in B.C., the number of VFX only projects ballooned to 35:
It seems clear the sky is not falling in Hollywood North.  But don't let reality fool  you….that's a job for storytellers.  And if you believe them (don't), soon there won't be any storytellers left in B.C..  Let's read their script….
According to Susan Brinton, author of a recent report prepared for B.C.'s creative industries, film & TV production has "dropped considerably":
B.C.'s "creative cluster" generates about $4 billion a year; $1 billion comes from movies and TV alone. "Certainly in the film and television industry, there's a very pronounced shift," Brinton observes. "Compared with other provinces, [local] production has dropped considerably over the last several years."

Cultural hotspots like Toronto and Montreal have been able to foster creative growth more effectively, a process Brinton would like to see mirrored in B.C. "We're losing talent to other jurisdictions because of more competitive funding, tax credit regimes and more employment opportunities," she says. "That's a serious concern for all the creative industries."
Brinton's dire claims might be disconcerting if they were supported by things like facts and reality.  But they aren't (see above charts).  But who needs facts?  The heads of B.C.'s creative industries, with Canadian Media Production Association vice-president Liz Shorten leading the charge, penned an op/ed in the Vancouver Sun last week.  According to them, B.C.'s creative industries are "big business" (and they are) that don't get the same level of "consideration and assistance" as key industries like mining and fishing:
It's big business to be sure – $4 billion a year in B.C. alone, putting it up there with well-recognized industries such as agriculture, forestry, fishing and mining.

And therein lies the problem. All of the other above-mentioned industries receive the consideration and assistance they deserve from the public, the media and the government. Most British Columbians acknowledge them as being among our leading industries and prime economic drivers.

B.C.'s creative industries are just as important, but unlike the others, are not given the same level of attention or support. B.C.'s creative sector is, quite frankly, left on the margins when it comes to ensuring that they remain competitive and healthy
Seriously?  The public, media and government aren't giving them the assistance they "deserve"?  Since the leaders of the creative industries represent the film industry, book publishing and the magazine association, they are "the media", literally.  Are they ignoring themselves?  Frankly, they insult the public and the government by claiming they are "left on the margins".  Give me a break.
Last year, B.C. (i.e. the government and the public) spent over $260 million on cash subsidies for film and TV production
  Over a quarter of a BILLION for cash subsidies in a single year (2011)!  Since 2003, B.C.'s film incentives cost the province over $1.1 billion!:
The only thing B.C. has to fear is the rapid escalation of costs in recent years.
Later this week I will post a follow-up to this article.  What the Hell is going on in B.C.?