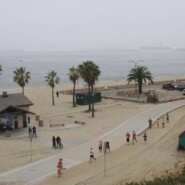 Beaches closed in Long Beach because of tar balls
from: Debbie Sklar, My News LA –
A large swath of beach in Long Beach remained closed Thursday after tar balls washed ashore.
The beach was closed about 4 p.m. Wednesday from 1st Place to 72nd Place and will not be reopened until health and environmental concerns can be addressed, Long Beach Fire Department spokesman Jake Heflin said.
"There have been ongoing efforts throughout the evening to make sure we are mitigating and minimizing any potential impact, not only on our beaches and protecting the environment, but also protecting and preserving public health and public safety," Heflin told reporters at a beachside briefing Thursday morning.
Heflin said a pelican was found saturated with oil and was being cared for by animal control workers. A sea lion was seen on a breakwater in the ocean, possibly contaminated by oil, but it swam away.
Source testing is underway to determine if the tar balls are related to the oil spill north of Santa Barbara May 19. There is no indication the incident is related to any Long Beach Gas and Oil operations, Heflin said.
Long Beach residents are advised to keep off area beaches because of the possibility of unsafe conditions, Heflin said. Beach users are advised to avoid contact with oil tars washed ashore or found in the water. Contact with oil tars may cause skin irritation and long-term health effects.
All reports of oil debris should be made to the National Response Center hotline, (800) 424-8802.
The tar balls washing ashore in Long Beach comes two days after large globs of tar washed ashore in Zuma Beach. Nearly all beaches from El Segundo to Redondo Beach were closed last Wednesday through Friday because tar balls washed ashore. The source of the globs has not been identified.
—City News Service