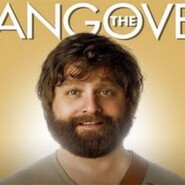 Behind the Locations of The Hangover Part III
from: Dyana Carmella, P3update.com –
The Warner Bros. sequel The Hangover Part III marks the last film in a trilogy that broke ground with its unique mix of adventure and comedy. Directed by Todd Phillips, the first two Hangover films are now seen as one of the most successful
movie franchises of all time. The third film centers on the four leads, Phil (Bradley Cooper), Alan (Zach Galifianakis), Stu (Ed Helms) and Doug (Justin Bartha), who find themselves on yet another outrageous adventure as they try to untangle their way out of some unthinkable circumstances. P3 recently chatted with the film's Location Manager Gregory Alpert (pictured below), who both took the ride of his life while creating a distinct look for one of the most anticipated comedies of 2013.
When veteran Location Manager Gregory Alpert (Frost / Nixon, Minority Report) was handed the script for The Hangover Part III, he knew he had his work cut out for him, but he was more than ready to take on the challenge. "It's interesting working on a trilogy or franchise movie because there is all this anticipation for it and you already have a huge following," notes Alpert. "What was special about this one was that I hadn't done the first two but I was certainly a fan of the franchise, and the fact that we were going back to Vegas made it really exciting. We were returning to a town where everyone knew us, so there was no flying low under the radar."
After reading the script, Alpert's first mission was to find the best locations to serve the story's purpose. "It's like with any film" he says, "You focus your time on trying to find your hero locations first. It's all about sitting down with the Production Designer (Maher Ahmad) and sort of taking a first pass, and meeting with the Director and DP (Lawrence Sher) to find out what they are looking for." A key element of the Hangover franchise is the amount of action that each film packs. "Even though it was a comedy, I felt like we were shooting Transformers 5," Alpert jokes. "I think I had more assistants at one time or another on this movie then I've had on probably any other film I've worked on."
The Hangover Part III was shot in California, Nevada and Arizona, and each location offered its own unique charm and challenges. Most notably, the Las Vegas shoot turned into a 24/7 operation. "We actually shut down the [Las Vegas] Strip, and several blocks of downtown Vegas, which was really exciting," Alpert recalls. "We were shooting scenes where we had to completely sweep everybody off the Strip for periods of time. We employed a tremendous amount of metro PD officers to really make these areas sterile." Alpert also notes the ease of shooting the principle cast in the lobby of Caesars Palace. "Caesars' employees are absolutely terrific," he says. "There is a tremendous symbiotic relationship between Warner Bros., the Hangover franchise and Caesars. They were absolutely fantastic, and I think this was a film that helped both entities tremendously during the depression."
Little did Alpert know that his next task would make shutting down the Vegas Strip look like a walk in the park. The production needed to shut down a freeway for a vital sequence early in the film, but not just any freeway — a Los Angeles freeway that would resemble the 405. Alpert was committed to tackling this mission even if could turn into every location manager's worst nightmare. The operation consisted of closing both the southbound and northbound lanes of State Route 73 for a weekend, starting from its Interstate 405 connector thru the 55 interchange, to Orange County's Jamboree Road exit — and this task would take four months to prep. "The section of the 73 we were on was a really easy double for the 405," Alpert reports. "I knew it was important to Orange County, so we didn't play it as the 405 with the blessing of the Director. We played it as the 73 and left all the signs in place. Working with theTCA, Orange County Film Commission, Cal Trans Districts 7 and 12 and the communities of Irvine, Newport Beach and Costa Mesa and then with CHP and the CFC, it was a huge undertaking for a freeway and community that has never experienced anything like that. That was a really big deal. I was personally really proud to have pulled it off. While we didn't know if it was going to happen, I always felt in my gut it [would work out]."
Amazingly, Alpert and his team managed to pull off their freeway trick without having a Plan B. "I remember one time Todd came to me and said, 'So, what's our backup?' and I said, I don't have one[backup]. I'm going to get you this freeway,'" says Alpert. "I so badly wanted to do it because it was such an incredible look, and it had never been shut down before. There was some tremendous production value because it's right at the edge of the John Wayne Airport, so you can see planes taking off and it really spells Southern California. Additionally, there it a great confluence of intersecting freeways and on & off ramps that adds to the look. At one Cal Trans meeting, we were seven people shy of an NFL roster. I couldn't believe the sheer amount of people in this particular meeting, but because it affected the nearby communities of Irvine, Newport Beach and Costa Mesa directly, many agencies were in attendance." When tackling such large tasks, Alpert knows a location manager is only as good as his team. "I had a really sharp, talented and dedicated team," he says. "I couldn't have done it without them. Everyone really worked hard on this project, especially my assistant Robert Paulsen who was my primary guy in Vegas. I had a lot of returning guys who've been with me for years and a handful of new guys who just joined the group. We pulled off some firsts, including the closing of the freeway."
When it comes to scouting new locations, one of the first things Alpert does is contact the film commissions. "I don't think enough location managers take advantage of film commissions, and we're very fortunate to have these offices in place," says Alpert. "Even if it's just a quick question to help guide you somewhere, I love utilizing them and what they have to offer." They are always my first call when I hit the Road". The Hangover location team worked closely with Janice Arrington from the Orange County Film Commission, Joanie Haenelt from the Kern County Film Commission, and the Tuscan Film Office in Arizona.