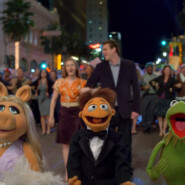 Betting on California Economy, Making State Greener
from: FilmWorksLA.com –
Two years ago, when runaway production drove on-location feature production in Los Angeles to a record low, the original owners of Reel Waste & Recycling decided to throw in the towel.  After serving the entertainment industry for 10 years, they didn't see a bright future for a company that exclusively provides waste management and disposal services for film companies in greater L.A.
Tom and Joy Ybarra, however, feeling optimistic about the future, saw an opportunity and purchased Reel Waste & Recycling (Reel Waste).  Since Tom and Joy purchased the company at one of the industry's lowest points, they had no reason to be disenchanted.  The present reality of the business was all they knew, and things (so they hoped) could only improve.
In the two years since the Ybarras purchased Reel Waste, on-location production activity has slowly begun to increase.  Much of the turnaround — and particularly the increase of feature film activity — can be wholly attributed to the California Film & Television Tax Credit Program.  Since the program took effect two years ago, incentivized projects have accounted for 19% of all local on-location feature film production.  For small family-owned companies like Reel Waste, which employs a staff of five, California's film incentive has been a godsend.
Reel Waste has serviced three feature film productions since the Ybarra's purchased the company: Argo, The Muppets and Judy Moody and the Not Bummer Summer.  Tom Ybarra was surprised when Film Works told him that all three films were incentivized projects able to stay in California because of the tax credit program.  The film incentive, like the industry it's meant to protect, has many unseen benefits.  One such benefit is the presence of a massive industry that is committed to environmentally friendly practices like "green filmmaking."
In 2009, Walt Disney Pictures launched the Environmental Steward Program, which added a new position (the environmental steward) to each project the studio produces.  For the environmental steward working on Disney's The Muppets, having access to vendors like Reel Waste is essential.  Reel Waste already diverts 100 percent of the waste it collects away from landfills.  Nonetheless, working on The Muppets meant taking "green" to unexplored levels.
"We provided the on-location Environmental Steward with recycling reports regarding what percentage of different materials they, as a production team, were diverting from the landfill," said Tom.  "It's extremely exciting and fulfilling for all involved to see their diligence and hard work on a visual graph.  I'm very proud to say, whether the production requires recycling reports or not, our customers can rest assured that no waste we remove will be sent to a landfill."
The Ybarra's are quick to joke about cheesy environmental slogans, including the one for Reel Waste: "Reduce, Reuse Recycle… Get Reel."  For the Ybarra's, however, being green isn't just a slogan.  "It really is our business, our livelihood, and our passion," Tom adds.
The production team on Warner Bros.' Argo began using Reel Waste only after production had already begun.  "They were using a vendor who did not exclusively cater to the entertainment industry, and they grew dissatisfied with their company's lack of responsiveness," Ybarra recalled.  According to Tom, Reel Waste excels as a company because it understands the needs of the entertainment industry.  "These are not needs that [companies] expect to have met, but that they have to have met," he observes.  Doing right by local neighborhoods involves nothing less.
  Reel Waste is not a 9-5 business, but a 24-7 operation.  Productions can — and will — change a 3pm waste pickup in Burbank to a 3am pickup in Santa Monica with a phone call, because their needs can change in a moment.  As a result, one of Tom Ybarra's most pressing concerns (shared by much of the entertainment industry) is not runaway production, but pending legislation in the City of Los Angeles that would require all waste collection in the City to be handled by a limited number of large waste franchisees.
The proposed law would put niche haulers like Reel Waste out of business.  As committed as they feel to Los Angeles, Tom and Joy have already started asking producers about their experiences filming in other states.  The Ybarras feel they need to eyeball potential opportunities should the City of Los Angeles franchise proposal be adopted.
Losing Reel Waste to another state would be very unfortunate.  Not only would it make that state more film friendly and adept at servicing film and television productions, it would mean losing an outspoken ally in the fight against runaway production.  Reel Waste's website explicitly mentions their commitment to the cause:
As local small business owners that are totally supported by the entertainment industry, we support FilmL.A., the Film Works campaign, the [Teamsters] Local 399, and the LMGA.  We look forward to getting more involved with helping prevent runaway film productions which in turn will also help California's economy.
Film Works salute Reel Waste & Recycling and their commitment to making Film Work for California.