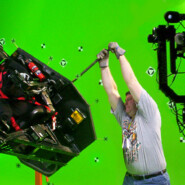 California visual effects artists fight foreign film tax credits
from: Richard Verrier, Los Angeles Times –
They donate funds to challenge the legality of the subsidies, which they say hurt U.S. workers and violate international trade agreements.
A group of California visual effects artists is mounting a long-shot campaign to dismantle foreign film tax credits, contending that they hurt U.S. workers and violate international trade agreements.
More than 150 visual effects workers in the last two weeks have donated funds to challenge the legality of foreign film subsidies that have buffeted California's visual effects industry.
"We're fighting for the industry we love," said Rachael Campbell, a visual effects artist and campaign donor. "This is our chance for us to come together and make our voices heard."
Foreign governments — and now most U.S. states — offer subsidies to production companies, enabling them to receive significant tax breaks and rebates that help them offset the cost of making movies and TV shows, including creating digital effects.
The campaign, launched by the widely read industry blog VFX Soldier, is Hollywood's latest attempt to fight foreign film subsidies and comes at a time when California's visual effects industry is struggling even as demand for dazzling computer generated effects on big-budget movies is greater than ever.
At least a half a dozen visual effects houses have gone out of business in recent years as more work has fled to foreign countries, especially Canada and Britain, that offer generous tax breaks for postproduction work.
The initial goal of the campaign is to raise $15,000 to retain a law firm specializing in international trade to study options to eliminate or mitigate film subsidies, including petitioning the U.S. Trade Representative to bring the matter before the World Trade Organization.
Although previous efforts to challenge foreign film subsidies have failed, organizers believe that the circumstances for their new initiative are more favorable.
"Times have been changing and there has been plenty of evidence to show these tax credits are more disruptive to industry and people's lives," said veteran visual effects artist Dave Rand, whose credits include "Transformers: Dark of the Moon" and "The Matrix Reloaded." He donated $1,000 to the campaign.
Industry leaders including Sony Pictures Imageworks, Rhythm & Hues, Industrial Light & Magic and Digital Domain — which recently emerged from bankruptcy — have each opened offices in Vancouver, Canada, which has emerged as a major hub for visual effects work. Unlike California, British Columbia offers a tax credit for postproduction work even if the project isn't shot there.
Several U.S. states also are grabbing a larger share of the business, especially New York, which recently launched a postproduction tax credit. The visual effects artists also favor ending those subsidies as well.
Scott Ross, a founder of Digital Domain and a former general manager for Industrial Light & Magic, backs the effort to fight film tax credits, saying such subsidies have made it even harder for California effects companies with normally thin margins to compete.
"It's obvious these subsidies are really harming the industry and perverting it," he said. "We've seen so many visual effects companies go bankrupt in the last 10 years."
The effort, however, faces tough odds. An organization of below-the-line workers called the Film & Television Action Committee filed a petition in 2007 with the federal government against Canadian film production incentives, arguing that they violated the North American Free Trade Agreement.
But the petition was opposed by some unions and the Motion Picture Assn. of America and failed to gain any traction. The U.S. Trade Representative in 2007 opted not to take up the matter with the World Trade Organization, saying a petition would not be effective.
"There was a lot of money spent with no results," said Steve Kaplan, an organizer with the Animation Guild, which has been attempting to unionize visual effects workers. Although his union is not backing the latest initiative, Kaplan said he made a personal donation of $100 because "something needs to happen."
Canadian officials have long maintained that their subsidies are legal and noted that most U.S. states now offer film tax credits, making it harder for U.S. trade officials to argue that the subsidies are illegal.
"Our position remains the same in that all Canadian production incentives are in compliance with WTO obligations," a spokesperson for the Canadian government said.