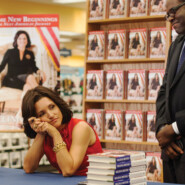 California's Expanded Tax Credit Set for 'Veep,' 'American Horror Story'
from: Dave McNary, Variety.com –
HBO's "Veep," Fox's "American Horror Story," Touchstone's "Secrets and Lies" and Viacom's "Hindsight" have been approved to receive California's sweetened film and TV tax credit for relocating to California.
The California Film Commission also announced six other new series — Touchstone's "Code Black," CBS's "Crazy Ex Girlfriend," Fox's "Rosewood," Universal's "Heart Breakers," HBO's "Utopia" and HBO's "Westworld" — had been awarded the credit conditionally along with the pilot for Fox's "Snowfall."
A total of 37 TV projects had applied for the credit.
"We are thrilled with the results of the program's first application period," said Amy Lemisch, exec director of the California Film Commission. "California crews and support businesses will begin to feel the impact immediately as these first 11 projects begin pre-production. The number of projects planning to relocate to California confirms that our expanded incentive program is already working.'
The first round of applications for the expanded program came last month and was open only to projects scheduled to begin production on or after July 1. The eligibility for tax credits has been expanded to include new TV series for networks, premium cable outlets, pilots and projects for Internet-based distribution.
A total of $55.2 million was made available for four categories: new series, which drew 16 applicants; miniseries, which drew three; movies of the week, which drew four; and pilots, which drew eight. Another $27.6 million has been reserved for series relocating production to California from out-of-state.
The 2015-16 fiscal year will mark a major expansion of the 6-year-old tax credit program, aimed at halting the erosion of California-based production to states with bigger incentives such as Georgia, Louisiana and New York. The annual allocation will rise from $100 million to $330 million, and applications will be ranked on how many jobs they will produce, rather than being selected by lottery.
The program expansion, enacted last year by California lawmakers, covers five years and $1.65 million in tax credits.
California has already allocated about $90 million for returning TV programs along with $10 million for independent features in the fiscal year. The next application period for the new program is scheduled for July 13-25 and targets feature films, which will receive $48.3 million, and independent projects, which will receive $6.9 million.
Another $92 million will be allocated during the rest of fiscal 2015-16. The new program awards tax credits only after selected projects complete post-production, verify the creation of in-state jobs and provide all required documentation, including audited cost reports.
The legislation established the allocation to each category: 40% will go to new TV dramas, movies of the week, miniseries, and recurring TV series; 35% will got to features; 20% will go to relocating TV series; and 5% will go to independent features. The credit is set at 20% of production costs with an additional 5% "uplift" if producers shoot outside the Los Angeles zone, commit to music scoring or music track recording in state or to do visual effects in California.
Under the previous program, the lion's share of funds went to continuing TV series. More than $77 million of the $100 million available for 2014-15 was allocated to a dozen series, led by $11.5 million for "Teen Wolf," "Rizzoli & Isles" with $8.9 million, "Pretty Little Liars" with $8.4 million and "Major Crimes" with $7.9 million.
The commission also announced Tuesday the list of 27 projects approved conditionally for the final round of state's first-generation tax credit program, which held its final abbreviated lottery on April 1. The dollar figures were not disclosed but add up to $100 million.
"Teen Wolf," "Rizzoli & Isles," "Pretty Little Liars" and "Major Crimes" were included along with 23 others.