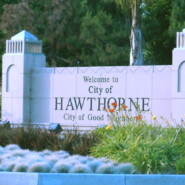 City of Hawthorne Partners with FilmL.A. for Permits
Effective immediately, The City of Hawthorne has established FilmL.A as the film permit coordinator for the area. FilmL.A. will now accept applications for permits to film anywhere within Hawthorne's 6.1 mile city limits.
Known as the City of Good Neighbors, Hawthorne is also home to some unique filming locations. The closed Hawthorne Mall and Robert F. Kennedy Hospital are available for filming use, as is a currently unused city-owned police station. Hawthorne also has its own Municipal Airport, which also goes by the name Jack Northrop Field. The City of Hawthorne neighbors Inglewood, El Segundo, Manhattan Beach, Gardena, and Lawndale.
A selection of publicly-owned Hawthorne properties is currently being cataloged for future inclusion in FilmL.A.'s online location library, LocoScout (www.LocoScout.com).
"We look forward to the opportunities and economic growth our work with FilmL.A. can bring to Hawthorne," said Mayor Chris Brown.
About the City of Hawthorne
The City of Hawthorne is the home of the country's greatest industrialists, designers, and visionaries. Honoring a history of inspiring innovative, progressive, responsible community advocates and business leaders, Hawthorne is home to industry pioneers, including SpaceX and Tesla. By virtue of its location, the City of Good Neighbors enjoys a Mediterranean climate and more than 250 sunny days per year.
Surrounded by the most expansive throughways in Southern California, including the San Diego (I-405), Harbor (I-110), and Glenn M. Anderson (I-105) Freeways, Hawthorne is ideally located near the Los Angeles International Airport (LAX), the Port of Los Angeles, Downtown Los Angeles, and California's world renowned beaches. To learn more, visit http://www.cityofhawthorne.org, and follow the City of Hawthorne on social media at @HawthorneCAL (Twitter) & CityofHawthorneCA (Facebook )