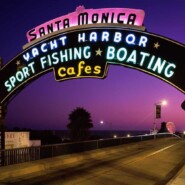 City of Santa Monica Partners with FilmL.A. for Permits
from: FilmLA Production Alert –
The City of Santa Monica has approved an agreement with FilmL.A., establishing the not for profit as the film permit coordinator for the area offering local filmmakers more convenient access to a variety of unique locations. FilmL.A. is now accepting applications for permits to film within Santa Monica City limits starting July 1, 2013.
The City of Santa Monica is located west of where the 405 and 10 freeways meet, along the coast, nestled between the cities of Pacific Palisades and Venice. In addition to many residential properties, the City is home to the famous Santa Monica Pier, the Third Street Promenade and the Annenberg Community Beach House. Each year the City of Santa Monica also hosts to the American Film Market & Conferences.
A selection of publicly-owned Santa Monica area properties is currently being cataloged for future inclusion in FilmL.A.'s online location library, LocoScout (www.LocoScout.com).