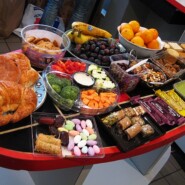 Craft services providers offering healthier fare on sets
from: DailyNews.com –
Movie & TV show craft services providers offering healthier fare on sets
One thing about working on movies and TV shows: there's always plenty to eat. Hearty breakfasts, rich lunches and the perpetual supply of snacks called craft services have long made even the most tedious and ego-plagued sets tolerable.
That bounty of free food has also created a body image conundrum for appearance-conscious Hollywood types.
But not as much anymore. Casts and crews increasingly expect set caterers and craft service providers to offer lighter and healthier options.
"For years, we've had lots of requests from people on crews who want to eat healthy," said Lenny Bent, whose Sylmar-based catering company Cookin' With Lenny has provided breakfast and lunch for such shows as "American Idol," "Will &
Jose Garcia carmelizes some walnuts in Sylmar for Limelight Catering, which provides craft services for the film industry. (John McCoy/Staff Photographer)
Grace" and, perhaps most inspirationally, "The Biggest Loser.""People have requested lots of lighter and more healthy items," Bent continued. "We do a lot of tofu, we do different vegetarian entrees, have lots of different salad selections, different fresh fish items."
Steve Michelson, a set catering veteran of some 40 years, said that production meals started transitioning from utilitarian to a healthier, more culinary endeavor in the mid-1980s.
"Before that, it was lots of meat and potatoes, fish was not real prevalent on the menus; fish on Fridays only, actually," recalled Michelson, who runs nine fully equipped food trucks out of the Sylmar company, Limelight Catering, he co-owns with executive chef K. Radji.
By the '90s, people were demanding more choices and fresher ingredients, and a certain health-consciousness has been snowballing ever since.
A visit to Limelight's lunch spread for the cable series "Weeds" shows just how diverse things have gotten. In one of the lunch tents on the Universal Studios lot, chef Alejandro Trujillo showed off a table of vegetarian antipasti that included plates of tomato and buffalo mozzarella caprese, roasted tofu in chili sauce, grilled eggplant
A Greek salad as prepared by Limelight Catering for the cast and crew working on the show "Weeds." (David Crane/Staff Photographer)
and four-bean salad with asparagus and artichokes.Outside under awnings, leg of lamb, roasted chicken and a pasta bar with both meat and meatless sauce options awaited people with the munchies on the set of the marijuana-centric show. As crew members went down the line, plates were filled with cooked flesh and mussels-enhanced noodles, but also with delectably prepared Brussels sprouts, wild rice and tossed-to-order salads.
"It's definitely become more elaborate over the years," noted "Weeds" production manager Leslie Waldman (unit production managers are generally in charge of choosing food providers, but producers or stars sometimes have the final say).
"There are pretty much options for everybody. That didn't used to be a big concern, but it's become one. I think it's a general social thing."
Indeed, many Americans have become more aware of and proactive about what they put in their bodies in recent decades – even as obesity has grown into something of a national plague.
Of course, thin has always been in for the show business crowd, so as healthy eating found some cultural traction, this bunch embraced it whole hog. But Hollywood also being the world capital of trends and illusions, set feeders can easily succumb to diet fads and making a show of eating healthy.
"As long as you put out something that looks healthy, they tend to eat it," observed Woodland Hills resident Ella Marcus, who owns and operates Ella's Craft Service. "Greek yogurt is big now. Vegetables are always a big thing. Cut-up fruit. Gluten-free, whether you are in need of it for your physical condition or not, they think it's the newest thing to eat."
Marcus has noticed a marked change from when she started providing set snacks a decade-and-a-half ago. Back then, keeping one bowl filled with chips and another with candy seemed to suffice.
Now, "If you put out a dip with crackers and chips and they look like whole grain crackers, more people will eat the crackers than the chips," she noted.
But some things remain constant.
"You know what I never throw out?" Marcus asked rhetorically. "Chocolate. You throw out vegetables, you throw out fruit, but you never have to throw out those chocolate-covered whatevers. They're eaten."
Cookin' With Lenny's Bent – who plans to open a restaurant, the decidedly not lowfat Cookin' With Lenny's Smokehouse in Chatsworth Lake Manor this month – recalled taking his food truck to Malibu for the comedy series "Son of the Beach."
"All the background players, usually young girls and guys in bathing suits, wanted egg whites," Bent said. "I think most of the protein is in the yolk, but people who are health- or heart-conscious want to feel like they're eating healthy.
"The really interesting part about that is, after ordering an egg-white omelet, they would want bacon, cheese, avocado, sausage … It kind of defeats the purpose, and that happens a lot."
The dichotomy between feeling good and tasting good isn't just a source of amusement, however. For some, Hollywood's heightened consuming consciousness can present both business and ethical opportunities.
"The interest for things that are good for the body and good to the Earth is skyrocketing," Matthew Evilsizor, who recently started up the onset coffee service Conscious Bean, earnestly asserted. Based in North Hollywood, his brews only use organic, fair-trade and shade-grown coffee and cacao, with equally pure flavorings and sweeteners – and whole milk.
"On one side, I'm trying to bring everything that's as good to the body as possible," Evilsizor acknowledged. "Every ingredient that we've picked are things that try to maintain the minerals and vitamins that are actually useful to the body without affecting the drink.
"That said, my philosophy is, if you're going to drink it, you should enjoy it without cutting any corners. But our whole milk is organic, sustainable and non-homogenized."
And, probably, a little costlier than the norm. Satisfying the entertainment industry's appetite for better food is costing the providers more, ironically, as runaway production cuts into local work opportunities.
"Now, you put out a lot more vegetables," observed craft servicer Marcus, who supplied the canceled "House" series and recent feature "Haywire," but has been seeking a new gig for a while now. "Vegetables cost more than candy. And when you put out vegetables at 9 o'clock, you can't leave the same vegetables out at 1 o'clock, you have to put out new ones."
"Whatever group of people, whether it's the meat-and-potato crowd or vegans or people who just like to eat healthy, the more people you can please, the more popular you're going to be as a motion picture caterer," noted Michelson, whose company's film and TV series resumes are as impressive as they are long. "It makes your costs go up, but with all the work leaving Los Angeles, only the good guys get the scarce jobs.
"Knock on wood, we're busy, because we do accommodate the people."