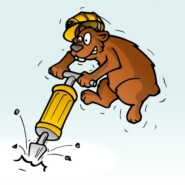 Decline in Television Production Hammers L.A.
FilmL.A. — the not-for-profit community benefit organization that coordinates permits for filmed entertainment shot on-location in the City of Los Angeles, unincorporated parts of Los Angeles County and other local jurisdictions — recently released a report about local on-location filming and the numbers are not pretty.  Overall, on-location production activity in the L.A. region was down 1.3 percent from the same quarter last year:
But the real news is in the details.  As the table above shows, television production activity is now down 12 percent year-to-date compared to last year.  Why?  Of the four subcategories of television production FilmL.A. reports on, the two biggest have double-digit year-to-date losses of their own.  From January through June, on-location TV Drama production is down 27.5 percent, and the category dropped 39 percent in the second quarter alone.  FilmL.A. measures production in permitted production days (PPD):
In terms of economic importance and job creation, the largest category FilmL.A. tracks is arguably TV Dramas, which includes 1-hour shows filmed over 12-episode or 22-episode seasons.  Features and Commercials are also significant, but Television often generates more on-location filming than both of these categories combined.
As the Los Angeles County Economic Development Corporation (LAEDC) pointed out last year, losing just one TV drama series to another location costs California thousands of jobs and millions in state and local tax revenue:
FilmL.A. President Paul Audley said Sacramento's longstanding inaction has allowed television productions to run away.  Right now, eleven one-hour dramas are filming in New York alone, with others filming in Canada or in states across the U.S.
For many years, we've relied on Television to backfill the hole left by the flight of feature film production from the L.A. region.  Television has been our bread and butter, but with Sacramento's inaction to stem our losses, other states and countries are eating off our plate.
Century Studios CEO Gary Klimmer recently told Film Works that it's hard work keeping his stages occupied and the only steady game in town is reality television production.  Reality TV, another important component of FilmL.A.'s report,  contributes many PPD to area totals but unfortunately doesn't generate as much spending as scripted fare.
The problem with reality shows is no matter how popular, they don't spend a third of what a good dramatic TV series spends, and they shoot only 10 episodes. With our margins it becomes almost a losing battle…  If we are lucky we may break even.  We need features and TV series to come back to California and stay here. (Gary Klimmer, Century Studios)
FilmL.A.'s next report is due out sometime in early October.