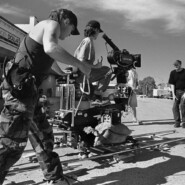 Duarte and other small cities take steps to improve film policies
from: Richard Verrier, LA Times –
The small city of Duarte in the San Gabriel Valley is hardly a hotbed for filming. Other than the occasional Sonic Drive-In commercial, Duarte doesn't get much lights-camera-action compared to higher profile cities like Pasadena, Burbank and Beverly Hills.
But that hasn't stopped Duarte officials from taking small steps to become more hospitable to Hollywood. Those include reducing the review time for film permits to two days from a week or more, and eliminating the requirement that producers obtain a business license when applying for a film permit.
"We may not get a lot of film permits, but the film industry is a major employer in Southern California and that affects Duarte,'' said Craig Hensley, the city's community development director. "We want to be business friendly and this is another way we can do that."
Duarte is among a handful of the cities within Southern California, including Carson and Simi Valley, that already have taken steps to incorporate a new "model film ordinance" and so-called "best practices" recently crafted by the California Film Commission with the help of various industry groups.
The goal is provide the local entertainment industry with a uniform set of policies and procedures for location production, making it more appealing for filmmakers to do business in Southern California at a time when many movies and TV shows are leaving because of more generous tax credits and rebates offered elsewhere.
Working with the L.A. County Economic Development Corporation and the Southern California Assn. of Governments, the commission has been urging cities such as Duarte to adopt the policies. They include designating a single person as film liaison, capping film permit fees at a weekly rate of $650, requiring law enforcement on an as-needed basis only, and reducing the advance notice requirements for filming to five days.
"It's our heritage industry, but we've made things so burdensome and unattractive, the rest of the country and the world is doing everything it can to get a piece of the business,'' said Glen Becerra, for the Southern California Assn. of Governments, which recently voted to encourage its 191 member cities and six counties to adopt the model ordinance and best practices."The goal is to have consistency so they (filmmakers) know when they go to Simi Valley or Rancho Cucamonga, they're going to have exactly the same regulations."
The practices are intended to address complaints from filmmakers over the years about what they describe as a hodgepodge of rules and regulations for location filming across Southern California. Most of the larger cities in the county, including L.A., already have film-friendly ordinances, but many smaller cities do not. Fees and review periods for permits, for example, vary widely. Some cities have a designated film liaison while others do not.  The inconsistency makes it difficult for producers to plan for productions and creates a further disincentive to shoot locally, industry officials say.
"When filmmakers work outside of California they often express that they got the red carpet treatment, so it's important for us to make it as easy as possible for them to work in the film and television capital of the world," said Philip Sokoloski, spokesman for FilmLA Inc., which handles film permits for the city and county.