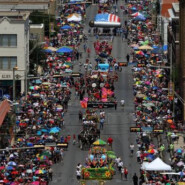 Fiesta Broadway Coming Up April 26th: City to Restrict Filming/Street/Lane Closures in Affected Areas
The 26th Annual Fiesta Broadway celebration is scheduled to take place on Sunday,
April 26th 2015. In preparation for this event, the Department of Transportation (DOT) will begin closing roadways at 12 noon on April 25th. Roadways will not re-open until 5am on April 27th.
Below is a list of street closures to make note of:
Broadway, Temple to 4th St.
Hill St, Temple to 1st St.
Spring, Temple to 2nd St.
1st St, Grand to Main St.
Requests for posted parking, closures and production within the event route will not be granted during the dates and hours listed above. Requests for production activity on surrounding streets will be reviewed and approved on a case by case basis