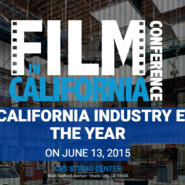 Film In California Conference
from: Conference.FilmCalifornia.com –
BIGGEST CALIFORNIA INDUSTRY EVENT OF THE YEAR ON JUNE 13, 2015
The 8th annual Film in California Conference celebrates the best California has to offer entertainment industry professionals. Attendees will learn how to leverage the state's unmatched production resources, including its incredibly diverse locations and vast production infrastructure statewide.
Highlighting this year is the new $330 million California Film and Tax Credit program. Learn important details on which companies are eligible, the opportunities, roll-out dates for applications, program changes and a whole lot more!
Come for the information and networking, and stay for the wine tasting reception and trade show exhibition. This year's conference has additional panels and more opportunities to meet and connect with the industry professionals who can help make your next project a success.
The conference attracts over 500 Location Professionals, Producers, Directors, Production Executives, Line Producers and UPM's, Production Designers, Still Photographers and New Media and Streaming Video Producers.