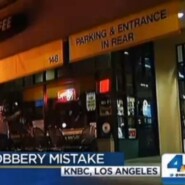 Film Shoot Mistaken for Coffee Shop Armed Robbery
Frightened shop patrons call 911 when they spot masked men with what appear to be guns
Someone yell cut!
Cops descended on a southern California film shoot after a pair of gun-toting actors were mistaken for robbers at a popular coffee shop, police said Friday.
The wild scene unfolded after a bystander stumbled across the unauthorized movie shoot and saw at least one masked man carrying an apparent assault rifle at Classic Coffee shop in Glendora about 7:19 a.m. Thursday, cops said.
"She makes a beeline back to her car," Capt. Tim Staab of the Glendora Police Department told the Daily News. "She's extremely frightened that the suspect saw her and that he would come after her and kill her."
The film school students pose for a picture carrying the guns that nearly got them killed by police.
The witness, Linda Bergslian, dialed 911 once she got to her car parked on the quiet street, just one block away from the police department.
"My brain went from the masks straight to the hand and there was a gun," Bergslian told NBC 4 News.
 All eight officers on duty immediately responded and surrounded the coffee shop, where the two actors stood carrying replica firearms — a pair of airsoft pellet guns, Staab said.
Airsoft pellet guns mistaken for real firearms during an unauthorized film shoot in Southern California.
One of the actors threw his assault rifle to the ground as the cops, with guns drawn, swarmed into the store — but a man holding a pistol at his side stood dumbfounded.
"Drop the gun! Drop the gun!" the officers yelled.
Staab said one of the cops said to himself: "If this person moves in any direction, I'm going to kill him."
"By all intents and purposes, this was an armed robbery, and officers responded as such," said Capt. Tim Staab, with the Glendora Police Department.
But, suddenly, a quick-thinking cop reached over and stripped the gun from the actor's hand and threw him to the ground.
Then, one of the cops saw a camera rolling in the background.
"What are you guys doing?" the cop asked, according to a recording played for The News.
"My brain went from the masks straight to the hand and there was a gun," said Linda Bergslian, who ran back to her car and called 911 at Classic Coffee in Glendora.
"Making a movie," one of the actors said.
"You're shooting a short film in an open store with a gun?"
The students — who did not apply for the $828 permit needed for film shoots — were not charged. They later even posed for cops holding the guns that nearly got them killed.
"It was more a sense of relief," Staab said. "These college students didn't realize just how close they were to getting killed. Thank God that this didn't go sideways…It was miliseconds away from being a true tragedy."