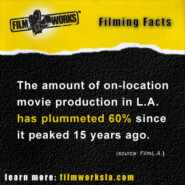 Film Works Campaign News Update
from: FilmWorksLA.com –
Wondering what Film Works has been up to lately?  If you've been away from the campaign for awhile, you might have missed some of the briefs we've posted on Facebook and elsewhere about our recent activities.  Here's a sampling of what's been occupying our time:
Film Works Expands Social Media Presence
Film Works recently expanded its online footprint.  Since launch, the campaign has been active on Facebook, Twitter, YouTube and Flickr, but as of this month Film Works is also onPinterest and tumblr, so please be sure to follow us there if you have accounts.
Also, in keeping with our mission to remind Angelenos about the economic, civic and cultural importance of the film industry to California, we recently kicked off a new Facebook education initiative.  Starting last week, we began posting sharable Filming Facts like this:
By the time this initiative concludes, we'll have posted 30 Filming Facts over roughly as many days.  With each post, we ask supporters to share the Filming Facts with friends and family.
As a result of this campaign, Film Works is seeing expanded online reach and astonishing growth.  So far, more than 70,000 people (not already followers of Film Works) have been reached.  Moreover, as we post each new Filming Fact, we also add it to the Filming Facts Gallery on the Film Works blog.  Check out this page if you're looking for ways to explain to others why keeping filming in California and Los Angeles is so important.
Film Works Attends AFCI's 2012 Locations Expo:
Earlier this summer, Film Works representatives participated in the 2012 Locations Expo organized by the Association of Film Commissioners International (AFCI).  The annual event draws film commission representatives from other states and nations, all looking to capture a share of California's heritage industry.
This year's AFCI show was held at the Los Angeles Convention Center during the Los Angeles Film Festival.  Film Works materials were distributed both by FilmL.A. (which organizes the Film Works campaign) and by the California Film Commission and FLICS (Film Liaisons in California Statewide).  Thanks to these groups, as well as several local vendors and suppliers, the California film industry was well represented at the trade show.
Outdoor Advertising Lands on Hollywood Blvd.
If you're a commuter in Los Angeles (and few of us aren't), it's likely you've come across some of Film Works' striking outdoor advertising.  Many of the 400 street pole banners we placed around Los Angeles were relocated a few months ago at significant expense.  Some of the newer locations to spot Film Works banners include Stadium Way near Dodger Stadium, along several stretches near USC and (appropriately) a prime location in Hollywood near Hollywood & Highland.