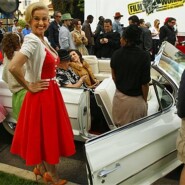 Film Works "Lets Keep It Here" PSA
from: FilmWorksLA.com –
Yesterday, officials celebrated the beginning of the second phase of the Film Works L.A. public education and marketing campaign. In the second phase, Film Works will shift its focus toward educating local communities about the economic, civic, and cultural importance of filming to the Los Angeles region. Campaign organizers marked the turning point this morning with the first screening of a Film Works public service announcement at Los Angeles City Hall. The volunteer-created piece, co-produced by FilmL.A. and directed by Michael Kehoe and Ed Gutentag of Shoot Movies in California, features actress Tia Carrere and highlights the jobs impact that a single day of local film production has on the local economy.
FilmL.A. President Paul Auudley said the new PSA is part of an effort to begin thanking local neighborhoods:
Up to this point, our focus has been on building the Film Works brand with a mix of outdoor advertising, word-of-mouth advertising and social media. Going forward, having solidified our entertainment industry support, we're stepping up our efforts to promote filming in Los Angeles, thank area neighborhoods for hosting filming, and renew local appreciation for filming's economic benefits.
You can watch the PSA below: