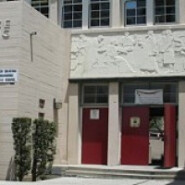 FilmL.A. Property Management Program Opens Doors for Filmmakers
from: FilmLA eNews –
In its nearly nineteen years in business, FilmL.A. worked hard to increase the amount of filming taking place on public property.  The benefits of this are twofold.  First, with FilmL.A.'s help filmmakers can obtain access to attractive, affordable properties that could otherwise be inaccessible for filming.  Second, the use of public properties for filming typically generates revenue that is then available to support property improvements of all kinds.  If you need an example of these benefits in action, you needn't look any further than your local neighborhood school.
FilmL.A. has partnered with seven school districts in the Los Angeles region.  To support them, FilmL.A. employs a two-person team of Property Lease Specialists who stand ready to walk filmmakers through the process of using a school for filming.  After many years of offering this service, the process for filming at area schools is rather standardized, however when there are special requirements or paperwork for filming at school properties, FilmL.A.'s Specialists are here to help demystify the process.
Streamlining the Process
Choosing to film at a FilmL.A. represented property means you are choosing to work with a company that understands the needs of the industry and the pace of on-location production.  Here are some of the benefits:
It is not necessary to receive the approval of the school board when seeking to film in any of the districts managed by FilmL.A. For some districts, obtaining school board approval can take months, if permission is granted at all.
FilmL.A. can deliver lease agreements quickly, and in many cases also assist you in obtaining a film permit along with your license.  Standard permits take 72 hours to process, but property lease agreements can be executed much faster.
School properties usually feature large parking lots.  Use of these lots during filming can reduces production's impact on surrounding communities.
Finding School Properties
Photos of filmable school properties are available on LocoScout (www.locoscout.com), FilmL.A.'s web-based location scouting tool. LocoScout helps filmmakers find schools (and other government properties) based on jurisdiction and required property features such as playgrounds, athletic fields, pools, auditoriums, etc.  For referrals to film friendly schools in general, FilmL.A.'s staffers are available to help you find a good fit.
Affording School Properties
Most school filming fees are negotiated at the District level, making a wide range of properties available for a predictable fee.  In addition, contract administrators at each District have the discretion to waive or reduce fees for filming in certain circumstances.  If you wish to shoot a Public Service Announcement (PSA) at an LAUSD school location, for example, you may be entitled to fee waivers worth hundreds of dollars.
Things to Keep in Mind
School districts' first priority is the education and safety of their students.  Film production is by nature disruptive and FilmL.A. is responsible for making sure that filming does not unduly impact the quality of education students receive.  For this reason, production companies are expected to maintain the highest standards of professionalism when filming at school properties.     Follow the guidelines stipulated in your property lease and film permit are essential to keeping schools open for business.
If you have any questions about filming at area schools, call FilmL.A. at 213.977.8600 and ask to speak with a Property Lease Specialist.