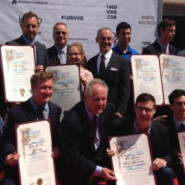 FilmL.A. Sponsors Third "Made In Hollywood" Honors
from: FilmLA eNews –
In August, FilmL.A. co-sponsored the third annual "Made In Hollywood Honors" along with Los Angeles City Councilmembers Tom LaBonge and Mitch O'Farrell, the Hollywood Chamber of Commerce and the California Film Commission. The event honors locally produced films and television productions receiving Emmy nominations from the Academy of Television Arts and Sciences.
This year the event honored 32 productions for shooting in the region. Among them were The Big Bang Theory which received the award for outstanding comedy series. Dancing with the Stars received the honor for outstanding reality-competition program. Daniel Martin, Supervising Producer for the show was accepted the award. "Dancing with the Stars is in its 19th season," Martin stated. "Between the resources and our unions, we can't imagine doing the show anywhere else in the world. We love it right here," he said.
FilmL.A. President, Paul Audley also had an opportunity to address the crowd. Audley expressed support for AB 1839, the California Film and Television Job Retention and Promotion Act of 2014. "There was a time when Hollywood took for granted production and its importance. I think one of the great things about this award is that it's highlighting the fact that we need you. We need you to keep Hollywood as the center of the entertainment universe."
In closing, Audley invited attendees to sign a petition in support of AB 1839 by visiting www.filmworksca.com/support.
Other productions honored were Jimmy Kimmel Live!, Modern Family, Mad Men, So You Think You Can Dance, Top Chef, The Voice, The Beatles: The Night that Changed America, Sarah Silverman: We Are Miracles, Dog With a Blog, Good Luck Charlie, One Last Hug: Three Days at Grief Camp, Mythbusters, Flipping Out, Bob's Burgers, Futurama, South Park, Jay Leno's Garage, the 71st Golden Globe Awards, The Oscars, Shark Tank, The Sixties: The Assassination of President Kennedy, The Soup: True Detective, The Writer's Room, Teenage Mutant Ninja Turtles: The Manhattan Project and