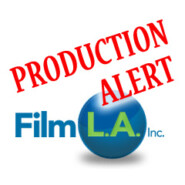 FilmLA Production Alert – Hospitals
The Los Angeles City Fire Department has asked FilmL.A. to remind the production community of the Fire Department walk-through requirement for filming at area hospitals. The attached letter (see below) outlines how to obtain a walk-through and what Fire Department inspectors are trained to look for on-location.
To ensure that your walk-throughs are scheduled on time and filming can proceed as planned, FilmL.A. recommends you contact the Fire Department as early as possible in your planning process. The Fire Department's minimum notification time for filming at any hospital, church or school facility is 48 hours (two full business days, weekends not included).
The Schools, Churches and Institutions Unit of the L.A. City Fire Department can be reached at 213.978.8675 on weekdays from 7 a.m. to 5 p.m. A 24-hour messaging service is also available; however, messages left via this service will not count toward the Fire Department's 48-hour notification requirement.
City of Los Angeles Hospital Requirements PDF