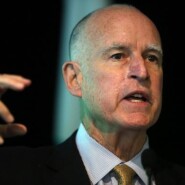 Gov. Brown Getting the Message on California's Film, TV Tax Credit Troubles
from: Todd Cunningham, The Wrap –
Top business officer tells state film commission gathering that "he understands the toll" taken by runaway production
California Gov. Jerry Brown has yet to declare where he stands on new legislation that would extend and expand the state's TV and film production incentives, but he sent an encouraging signal Thursday.
Kish Rajan, director of the Governor's Office of Business and Economic Development, was the featured speaker at the ninth California Film Commission Locations Breakfast.
"The governor will make the final decision, but I know that he understands the toll taken in jobs and on our economy," Rajan said in brief remarks to the roughly 300 assembled location managers, film officials, studio and network executives, union leaders and small business representatives gathered at the W Hotel in Hollywood.
"California is a brand and we have an image, and few sectors define that as much as our film and TV industry, so I will be recommending that we do everything we can to support it," he said.
The new legislation, introduced by Assemblymen Raul Bocanegra (D-Pacoima) and Mike Gatto (D-Los Angeles), would make the credits available to blockbuster movies with budgets of more than $75 million and one-hour network TV shows and pilots — all of which are currently excluded  – in an effort to keep more productions in the state. It also would put the program on a five-year footing to run from 2016 to 2021 as opposed to its current two-year extensions settings.
The current program will have used up all of its $100 million in annual funding in June 2015, though the program technically exists for two years beyond that. An increase in the amount of money available, to bring the state closer to the amounts offered by rival states and countries, is also likely to be part of the final bill. New York, for example, offers more than $400 million in credits annually.
Gov. Brown's backing for the bill isn't a given, and it's likely he'll continue to stay mum, since he's certain to be criticized by some sectors if and when he does back it. Brown granted a two-year extension of the program in 2012, but the new legislation has drawn fire from powerful school unions including the California School Employees Association, which points to what it says were $20 billion in cuts to state support for education in the last several years.
"Tax credits for special interest groups, corporations and others have, over the last decade, depleted our general fund of billions of dollars," said the California Teachers Association in a statement.
Still, the state's economy appears headed in the right direction, and most inside the effort to get the new legislation passed, are confident that the governor ultimately will support the bill.
"I think he'll be there in the end," L.A.'s film czar Ken Ziffren, who was appointed by L.A. Mayor Eric Garcetti to head the city's efforts to halt runaway production, told TheWrap.
Of the 30 highest budgeted films in 2013, only two were largely shot in California. At the same time, the number of one-hour television productions has fallen by 64 percent, according to Garcetti's office. Feature film production has plummeted 56 percent since a peak  in 1996, while television production has dropped 39 percent from a high in 2008.
The bill, AB1839, passed its first legislative hurdle last month clearing the Assembly Arts, Entertainment, Sports, Tourism and Internet Media Committee by a vote of 7-0. It has several more panel votes to go, before facing Assembly and Senate votes, most likely in the fall.
After Rahim spoke, the gathering heard a discussion with the team behind"Walk of Shame," a movie comedy that received tax credit funding and was shot almost entirely in L.A. The film, which stars Elizabeth Banks and was written and directed by Steven Brill, will be released on May 2.
Lakeshore Entertainment's Richard Wright and location manager Ralph Meyer told the group how the program enabled them to make the city an integral part of the film and the benefits that came with that. They were to be joined by the film's line producer Ted Gidlow — but he's currently working on a project in Georgia.