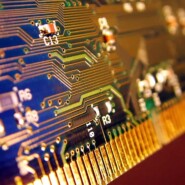 Hollywood executives predict technology-fueled changes
from: Dawn C. Chmielewski, LA Times –
During Grammy week, when musicians take center stage, Universal Music Group Chairman Lucian Grainge is attracting a fair amount of attention as well.
Billboard magazine placed Grainge at the top its Power 100 list — thanks in part to his orchestration of the $1.9-billion takeover of EMI Music. The music industry publication dubbed him "a fierce and tireless advocate for the recorded-music business."
Grainge has devoted his career to the business, having worked with and signed a multitude of songwriters and artists, including U2, Elton John, ABBA, Eurythmics, Metallica and Amy Winehouse. These days he's been focusing on building digital distribution models and technology partnerships around the world (and serves as a United Kingdom trade ambassador).
Some of that Grainge gravitas was on display at this week's Innovation Forum, a two-day event in Los Angeles that attracted prominent players from media, technology and venture capital — and a surprise remote appearance by British Prime Minister David Cameron from 10 Downing Street (who put in a plug for British film and TV production).
One session featuring some of the biggest names in Hollywood — Grainge, Sony Corp. of America Chief Executive Michael Lynton, William Morris Endeavor Entertainment co-CEO Ari Emanuel, DreamWorks Animation CEO Jeffrey Katzenberg and FX Network President John Landgraf — produced some surprising insights about the intersection of technology and entertainment.
Katzenberg predicted that a decade from now, Hollywood films will be ubiquitously available a short time after their theatrical debuts. The price people pay to watch a movie might well be dictated by screen size — in his words, "based on the square inch," almost like commercial real estate.
Moviegoers who want a high-quality theatrical experience — one that could include drinks and a meal, and the best possible projection — could well pay $35 to $45, Katzenberg said. Those who prefer to watch on a smartphone might pay less than $1.
"Pricing has been screwed up through our industry for a long time," Emanuel said. "We'll get to the right pricing."
The idea of price based on screen, while on its face radical, is not that big a departure from Hollywood's current release strategy, known as "windowing." These days, the price a consumer pays is based on the amount of time that has passed since a movie screened in theaters (the longer the wait, the cheaper a film becomes).
Lynton said technology is driving an even more fundamental transformation in Hollywood. People are getting away from the idea of ownership, he said, and increasingly paying for access to content. (Think Netflix, whose U.S. users pay an $8 monthly subscription fee and gain immediate, unlimited online access to its catalog of movies and TV shows instead of buying DVDs.)
"That's going to change everything we do, in terms of film and content," Lynton said. "People are breaking that emotional hold of 'I have to own it if I'm consuming it.' Once that shifts, a lot goes with it."
FX's Landgraf — who has helped shepherd the cable network's edgy scripted dramas like "Sons of Anarchy" and dark comedies like "It's Always Sunny in Philadelphia" and "Louie" — predicted a revolution in TV advertising.
"I'd say pricing is broken in advertising," Landgraf said. "Not only do you have to watch 20 minutes of advertising, it's incredibly irrelevant to you."
In the future, Landgraf said, technology will enable advertisers to more precisely target TV audiences through "addressable advertising."
"We're going to be able to reduce the amount of advertising you watch by 50%," Landgraf said. But "everything you are watching is going to be relevant to you. If you don't have a dog, you don't see an ad for dog food."