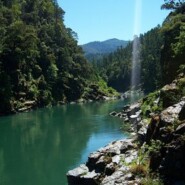 Humboldt County Economy to Get Jolt From Big Budget Film
from: FilmWorksLA.com –
According to an article in today's Times-Standard, a new Sony Pictures science fiction movie starring Will Smith will be infusing the Humboldt County economy with production spending  for two weeks of shooting expected to wrap on May 5th.  According to film permits, filming will take place in Humboldt County's old growth redwood stands and "is expected to bring desirable Hollywood dollars to the community":
Filming permits show that the production, which takes place in some of the county's old growth stands, will be closely monitored by rangers. The production is expected to bring desirable Hollywood dollars to the community, and could potentially employ local vendors and services….

Humboldt County Film Commissioner Cassandra Hesseltine said that Humboldt is a prime destination for commercial and independent film shoots, and said enticing more film productions in the area would be a boon to the local economy.

"I don't think any amount of money is too small," Hesseltine said.

Last year, Humboldt County brought in about $1 million in revenue from commercial shoots, shorts and an independent film.

"You can imagine, when a studio comes, that number is considerably larger," Hesseltine said, adding that a multiplier effect means every dollar spent here circulates in the county for a larger impact.
Whether it's the seven California State Lawmakers who voted in favor of AB 2026, the editorial board of The San Francisco Examiner or the people in the northern-most reaches of the state in Humboldt County, it's heartening to see people across the state recognize that Film Works for ALL of California.