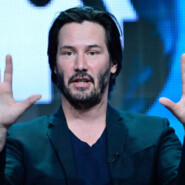 Keanu Reeves Explores Film vs. Digital in Side by Side
from: Frank & Margie Barron, P3udpate.com –
As digital technology has established itself with a new generation of filmmakers, moviemaking has gotten both easier and more complicated. Will new digital formats reduce old-fashioned film production as a footnote for cinema students? That and many other issues are explored in the documentary Side by Side: The Science, Art and Impact of Digital Cinema. Airing on August 30 on PBS as part of its PBS Arts slate of programs, the doc is directed by Chris Kenneally and hosted by its co-producer Keanu Reeves, who investigates the history and process of both digital and photochemical filmmaking. And, even if you aren't a filmmaker, the special is fascinating to watch.
As a producer and director, Reeves gives an insider's perspective on the industry as he shows what artists have accomplished with emulsion film and digital pixels. He offers an in-depth examination of how digital filmmaking is currently challenging traditional celluloid. "I went into the documentary asking 'Is it the end of film?' a year ago," says Reeves. "And now, film stocks are getting harder to get, and who's going to develop it? There still seems to be an artistic pushback that I think will help it survive in a niche way. There are people who speak about the unique aspects and qualities of a photochemical experience, and they're kind of the protector of that flame. Then there are artists who have that feeling, but through a particular story will utilize a different tool."
Reeves laughs when he notes that his innovative Matrix movies were all done on film before being digitized. In the documentary, he looks at other groundbreaking films and explores how the needs and innovations have helped to push filmmaking in new directions. "I would say that we're seeing a lot of so much content … now digitally, not only through the camera but through the format of exhibition and distribution," he notes. "We're seeing a lot of short-form storytelling and serialized storytelling. I would say the technology has influenced that in the sense of availability, cost and means of production. I've got a phone and a camera and I can tell a story. I have the Internet, and I can share my story. I think, digitally, that had a profound effect in terms of exhibition and distribution connected with the tools."
Last year, Reeves took Side by Side to a variety of film festivals, and he says he was struck by seeing the love people had for movies and storytelling and the interest in how these stories are told. "The other thing that came across to me really strongly was the debate," Reeves adds. "I always called it an intersection: Is it an evolution or revolution, this moment in time between this new technology coming up and this gold-standard technology? I think it comes across in the documentary, the personal passion for this idea for what's happening now and how we're telling our stories."
To advance the digital vs. film dialogue and debate, Reeves had unprecedented access to great cinematographers and influential filmmakers, including James Cameron, David Fincher, George Lucas, David Lynch, Martin Scorsese, Robert Rodriguez, Steven Soderbergh and Lana and Andy Wachowski. During the shoot, Reeves relished his job as the host and insisted on being next to the camera and doing the interviews. "I wanted to be engaged in the conversations, so I tended to have the research that we had done and then to speak as a peer interested in this moment in time, to have a conversation about your interest and your passion about what we were speaking about," he explains. "I was trying to be both objective and subjective." For movie fans, it's so worth seeing Side By Side just to hear everyone talking so passionately about the craft. "You're getting the life story of their art that turns into their perspective on their craft, which was inspiring," says Reeves.