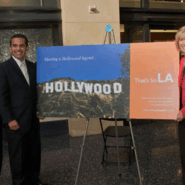 LA Mayor Fighting Runaway Production
from: FilmWorksLA.com –
Los Angeles Mayor Antonio Villaraigosa, like many other concerned citizens and public officials, took it upon himself to urge Governor Brown to sign the extension of the California Film & Television Tax Credit in a letter sent to the Governor's Office earlier this month. To see a copy of the Mayor's letter, click on the following link: Mayor Villaraigosa's letter to Governor Brown re AB1069.
The Mayor's letter comes on the heels of last month's roundtable discussion at Variety headquarters with film production and location managers to highlight the cost-saving opportunities and film-friendly policies implemented by the City to keep production in Los Angeles. Mayor Villaraigosa was joined at the roundtable by Amy Lemisch, Executive Director of the California Film Commission and Paul Audley, President of FilmL.A. During the roundtable discussion, the Mayor said he was "committed to creating jobs" by using "effective incentives":
We are committed to creating jobs in Los Angeles. Our City is one of 75 across the country facing double-digit unemployment. We cannot wait for Washington D.C. to act. We must invest in our key industries and creating jobs here in LA with effective incentives.

Entertainment production is the backbone and birthplace of our City's success—it represents a first-class economic anchor defined by creativity and innovation. I am committed to keeping Los Angeles film-friendly and creating more jobs within this industry.
Some of the film-friendly policies the Mayor highlighted at the roundtable included:
Making it a priority to improve the filming environment in LA, the City has made most municipal facilities, including the Mayor's City Hall office, available for filming without charge and has implemented a free parking program, which provides parking after business hours and during weekends in available City lots, without charge.
The Los Angeles Department of Water and Power has also installed power utility nodes as part of a pilot project in Downtown Los Angeles. Film productions can use the nodes in lieu of generators at the Los Angeles Zoo, the Department of Water and Power John Ferraro Building and City Hall.
The City has also expanded the Multimedia Zones created in 2005 to include Downtown Los Angeles in addition to the Hollywood and North Hollywood Redevelopment Areas. Multimedia zones cap the business tax for eligible entertainment and media businesses as well as production companies located within the zone.
The Mayor said his office is soliciting similar ideas from the film and television industry as part of an ongoing commitment to make the region more film-friendly, but admitted "there are limitations to what we can do" at a time when L.A. is facing a $200 million deficit. Nevertheless, the Mayor's two-fold approach of urging action at the state-level while taking action at the local level can only help keep Film Working in California. We applaud Mayor Villaraigosa for leading by example by writing a letter to Governor Brown and encourage everyone concerned about preventing runaway production and keeping good jobs in California to do the same.