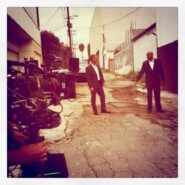 Local On-Location Filming Sees Two Percent Slip in Q1
from: FilmLA.com –
TV Drama and Reality Losses Mount, Pilot Season Off to Slow Start in L.A.
LOS ANGELES – April 3, 2012 – FilmL.A. — the not-for-profit community benefit organization that coordinates permits for filmed entertainment shot on-location in the City of Los Angeles, unincorporated parts of Los Angeles County and other local jurisdictions — today announced that overall on-location production decreased 2.1 percent last quarter compared to the same period last year (11,360 PPD in 2012 vs. 11,604 PPD in 2011)*.
The Television category delivered all of the quarter's double-digit letdowns. The Television category slipped 9.0 percent for the period (4,277 PPD in 2012 vs. 4,701 in 2011), led by lackluster numbers in the subcategories of TV Drama (down 18.6 percent to 1,029 PPD), TV Reality (down 19.3 percent to 1,558 PPD) and TV Pilot (down 11.4 percent to 335 PPD). TV Sitcoms, traditionally a soundstage-bound category of film production, increased sharply (up 23.3 percent to 444 PPD) thanks to filming from nearly two-dozen single-camera comedy series.
The Television numbers are generally in line with recent trends. TV Pilot projects are off to a slow start this year in Los Angeles, and even the California Film & Television Tax Credit Program, which brought nine state-qualified television projects to Los Angeles last quarter, couldn't arrest the Television category's overall slump. State- qualified projects, including Franklin & Bash, Justified and Shadow on the Mesa, among others, contributed 68 PPD across various television subcategories, representing 1.6 percent of total TV days logged during the quarter.
"This is the first quarter where we've seen television projects outnumber features in the list of incentivized projects filming locally," FilmL.A. President Paul Audley observed. "Nonetheless, we continue to feel the sting of last year's loss of television dramas and a softening in the reality production segment overall."
On-location Feature production increased 15.8 percent for the quarter (1,019 PPD in 2012 vs. 880 PPD in 2011), a strong showing during what is usually a slow time of year for feature production. The region benefitted from the presence of multiple feature films, notably Channeling, Coffee Town and Kiss Me.
The California Film & Television Tax Credit Program also helped give Features a boost; from January through March, state-qualified Feature projects generated 46 PPD for the region, representing 4.5 percent of the quarterly total. Incentivized Feature projects included Warner Bros. Pictures' Burt Wonderstone and Millennium Films' Lovelace.
Production in the Commercials category increased 10.8 percent for the quarter (2,309 PPD in 2012 vs. 2,083 PPD in 2011), continuing its strong performance seen throughout 2011.
"At a time when other jurisdictions — notably New York — are using generous film incentives to set TV production records, California is losing ground as the pilot and series production location of choice," Audley said. "Sacramento's lax response to this threat to local jobs is dismaying."
* On-location production figures are based on days of permitted production within the jurisdictions served by FilmL.A. One permitted production day (PPD) is defined as a single crew's permission to film a single project at a single defined location during any given 24-hour period. This data does not include production that occurs on certified sound stages or on- location in jurisdictions not served by FilmL.A. Overall figures include production of feature films, television programs, commercials, documentaries, industrial videos, infomercials, music videos, still photography, student films and miscellaneous production.