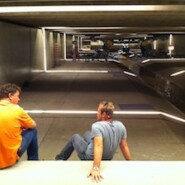 Location Managing: The Keys to the City
from: P3Update.com –
It's been said that the most challenging job experiences usually end up being the most rewarding. This is certainly true for location managers. The tasks of turning summer-time Philadelphia into a wintry Gotham City under siege, making today's Los Angeles look like Tehran in 1979, or taking on a project with zero locked locations and two weeks till production have made location scouts into Hollywood's unsung heroes. Last month, the 18th Annual California On Location Awards (COLA) gave these hardworking industry professionals their due.
P3 Update recently caught up with a few of the finalists for the 2012 COLA's Location Professional of the Year: Jonathan "J.J." Hook (The Dark Knight Rises), Chris Baugh (Argo) and David Flannery (Smashed). "The responsibilities assumed by location managers are many times greater than what most of our seasoned colleagues believe to be true," says Baugh, whose credits include We Bought a Zoo, Bad Teacher and Secretariat. "Any recognition given to us carries a lot of impact, and I'm very proud of my team and sincerely appreciative for the COLA nominations."
Before he was a location professional, Baugh used to sneak on movie sets around L.A. and ask to talk to the location manager. And, after running into the same guys, he found Tim Hillman short-staffed one day, and Hillman handed Baugh a walkie-talkie on the spot and put him to work. Now 20 years later, Baugh is at the top of his game, and when beginning a new project, he likes to look for a property owner who is similar to a character in the script. His feeling is that a person's surroundings are evocative of their lifestyle. For Alan Arkin's veteran Hollywood producer character in Argo, Baugh knocked on the doors of glamorous Hollywood personalities from the past and ended up in the Bel Air home of Zsa Zsa Gabor and Prince Frederick Von Anhalt. "I was fortunate enough to tour the homes of some very well-known Hollywood elders," Baugh recalls. "Sometimes that led to chats by the pool, and there's nothing quite like the energy and grace of those from our Golden Era."
While the independent film Smashed isn't a period piece, it contained some significant challenges for location scouting — and Flannery admits to having no "plan B." Filmmaker James Ponsoldt (Off the Black) had always envisioned a specific location as being an integral part of Smashed, his latest film. "Santa's Village," a former fantasy winter-themed amusement park outside of Lake Arrowhead, Calif., was a big attraction in its heyday during the 1980s, but it was now slowly being taken over by the surrounding forest. "The property had been in legal limbo since the owner died years ago and is now a lumber yard run by a man named Eric, on behalf of the owners," explains Flannery. "He told me that no one had been able to film there in the last decade, mostly because the family did not want the property disturbed. After several visits driving myself up there, since Eric didn't have a phone, fax or email, I convinced him of the importance of the location to our film and he agreed to ask the family, who eventually gave us their blessing, and we spent a wonderful day up in the mountains making our film."
The lack of communication Flannery experienced with that particular location rep is every location manager's nightmare. Fortunately, the most basic technology has made location scouting immensely easier over the years, allowing real-time access to maps, research about a certain location, and communication between team members. "Having access to a mobile Internet connection is a must for me," says Flannery. "Whether it is using Google maps while scouting from the car, looking up contact info from the Cloud, [or] making maps on the fly with Pages, there are just so many things that are better done with a tablet or PC that require mobile Internet."
Like Flannery, J.J. Hook (Inception, Thor, Men in Black 3) utilizes Google and all its glory as well. On The Dark Knight Rises, he frequented Google Earth Pro the most, using it to speed up the process of finding streets with minimal trees for the film's exterior winter scenes. "We also used the Google Earth 3D building option to determine the flight path for the 'BAT,'" says Hook. "That being said, we can't rely on Google Earth completely. We still go out and scout the locations, but this process certainly saves time in finding the best options to go with." These best options were then brought to Director Christopher Nolan and his production designer, and the final decisions became their collaboration along with the location department and sometimes the stunt coordinator, depending on the nature of the scene.
Hook describes the location manager's job as providing a number of options that work logistically (by ensuring that they can control the location and surrounding streets to capture the scene), creatively (by finding a location that's photogenic enough to interest both the designer and director) and financially (by delivering the location within a previously approved budget). Flannery echoes this process, saying that it all only comes together when the combination of creative, budget and logistics pans out. "Obviously we want to deliver the best locations for the film that we can," offers Flannery, "but, on some occasions, there are locations that are ruled out even before being looked at due to cost or logistical challenges. Thankfully, with Smashed, we got to shoot everywhere we wanted to, and I feel that the locations really shine in this film."
Hook sees the job of location managing as all-encompassing, and it can affect one's mind, body and spirit. "I scream, laugh and cry on a daily basis," he admits. At this month's COLA event, Hook and his fellow location managers, along with other assistants and scouts, will have their intrinsic jobs honored, making their blood, sweat and tears well worth it.