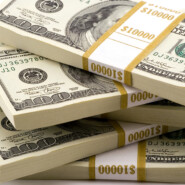 Lottery for $100M in Film Incentives Set for June 1
from: Bob Strauss, DailyNews.com –
Whether from Humboldt County or Hollywood Boulevard, the film commissioners and industry officials who gathered Friday for the California Locations Breakfast had the same goal: Keep as much production as possible from running away to other states and countries.
At the event in West Hollywood, California Film Commission Executive Director Amy Lemisch explained to officials and producers that the state offers diverse locations, unmatched talent pools, superior infrastructure and a tax credit program for film and television productions.
"We're here to assist and facilitate your productions throughout the state," Lemisch told producers.
The main assistance they're interested in, though, is how much of the next $100 million in tax credits they can get their shows approved for.
On June 1, the commission will hold a lottery to allocate the film incentive funding approved by the Legislature. Usually, 30 to 40 productions out of 150 applications are initially approved for some portion of the $100 million in tax credits. Those that don't make the June 1 cut get put on a waiting list and can receive tax credits as some of the approved productions inevitably collapse or are delayed.
It's far from a perfect system. Other states and countries, such as Canada, have much larger incentive pots and no uncertainty factors like a lottery. Additionally, the California program, initially approved for $500 million over four years ($200 million was allocated in its first year of existence), was only extended one year, to 2013, in the last legislative session. However, bills are moving through both the State Assembly and Senate to add another five years.Despite its drawbacks, Lemisch noted that the program has kept 165 film and TV projects in California, and those have spent $2.9 billion here – $1 billion of which went to salaries for the state's below-the-line production workers.
Producers attending the breakfast explained that while they very much prefer shooting in-state, budget realities are the key dictator of whether they can stay or go.
"We love to shoot here," said Robyn Snyder, senior vice president of development and production at MarVista Entertainment. "Actors love it and it's a great crew base, and we would all love to stay home."