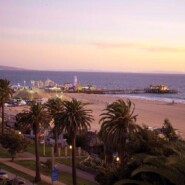 Major Construction in the City of Santa Monica
FilmL.A. has been informed that two long-term construction projects will take place in the City of Santa Monica, the first is the Colorado Esplanade Project and the second is the California Incline Renovation Project. Please note that there will be a significant amount of traffic and noise in and around the affected areas. Permits for production related activity and/or parking in the affected areas will be reviewed and approved on a case-by-case basis. Construction areas are listed below:
COLORADO ESPLANADE PROJECT: The project began 3/6/15 and will continue for 12-14 months from the start date. The project is tied to the expansion of the Exposition Line and will create a more pedestrian-friendly zone, eliminating east-bound vehicular traffic.
 Buffer Zone: Idaho Ave., Ocean Ave., Wilshire Bl., 2nd Street
 No posting, closures or ITC on Ocean Ave. between Washington Ave. and Wilshire Bl.