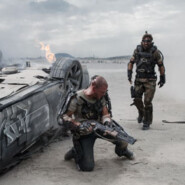 Managing the Futuristic Locations of Elysium
from: Dyana Carmella, P3update.com –
Without a doubt, one of this summer's most anticipated films is the sci-fi action drama Elysium, starring Matt Damon and Jodie Foster. Written, co-produced and directed by Neill Blomkamp (District 9) and shot by Cinematographer Trent Opaloch, the futuristic film takes place in 2154, where the very wealthy live onElysium, a high-tech utopian metropolis located in Earth's orbit. While Elysium's privileged inhabitants are free from crime, war, poverty, hunger and disease, the have-nots struggle to live on an overpopulated, ruined Earth. Damon plays Max De Costa, a car-thief-turned-factory-worker on Earth. When an industrial accident leaves him with cancer, he has only five days to get to Elysium to be cured. With the help of a powerful exoskeleton and a few companions, De Costa accepts a dangerous mission that will pit him against Elysium's Secretary (Foster) and her secret police, led by the violent Kruger (Sharlto Copley).
The independent studio Media Rights Capital and TriStar Pictures launched Elysium into production in July 2011 with a budget estimated at $100 million. Production began in Vancouver, British Columbia for the film's space station scenes, while the Earth scenes were shot in Mexico City. Veteran Location Manager Abraham Fraser (The Twilight Saga) spearheaded the scout and management of the Vancouver locations, while Location Manager Juan Pablo Noval (After Earth), handled Mexico City. Fraser knew that he had to immediately go after the key locations when he first saw the script. "Right away, we had to accumulate all the high-end homes available and then piece the characters together with each of the homes," recalls Fraser. "I had to read the script and find the most logistical or difficult scenes and figure out where we are going to shoot those, especially some of the landing scenes where we needed helicopters to land."
On any given film, Fraser (pictured right) runs a team of two assistant location managers in the field and a third working from the office. "On Elysium, I would have 10 production assistants to facilitate the needs on set," says Fraser. "We had a second unit going as well, where I would have an assistant location manager there and then one for the main unit as we shot simultaneously at two locations." In Vancouver, the production needed a location that could pass for the interior of a high-tech mechanics workshop. They chose to shoot at Avcorp, a 300,000-square-foot aircraft manufacturing plant that's open 24 hours a day. As a working building, Avcorp ended up being one of the most challenging to shoot. "Before filming at this location, we had to cut a deal with Avcorp for their employees to ramp up production," reports Fraser. "In essence, during our three days of filming, we could have the run of various parts of the building or shoot as they work
About 90 percent of Elysium's interior scenes were shot in Canada. Once the film's mansion locations were secured, the production crew wrapped green screens around the windows to help create the world that Blomkamp had envisioned. "Many of the locations I see in the trailer I look at and go, 'Wow, that's amazing,'" says Fraser. "I would have never envisioned that from what we shot. Almost everything was re-created. I learned more about CGI work and visual effects, but I feel like we are all learning about CGI as it evolves."
As for working with a visionary director like Blomkamp, Fraser knew from the start that it would be an experience he'd never forget. "I was a huge fan of District 9 so I was really honored to be a part of Elysium," Fraser enthuses. "I work with a lot of directors that don't know what they want, but for Neill it's there. He's got everything storyboarded and knows exactly what he wants. I have issues with directors that will look at many different homes and many different locations [where] the first one we saw could have worked. If you go out scouting with Neill, if the first location you stop at is the best, you're not going to look at the rest of them, which makes a big difference for me. He is very direct. It was important for Neill to shoot on location to give a more real feeling for the actors. [Philip] Ivey, our [production] designer on Elysium, was also a very strong creative force and very talented."
Fraser notes that it was also nice to see a director having control over the set during production. "Unlike working on a studio film and seeing how little control the director has, in my opinion, if Elysium had been from Fox or Paramount and considered a studio film, [Neill] might have been given his cast but would have had to go through so many more approvals for everything [else]," Fraser explains. "Sometimes studios want to market products like Coca-Cola when it has no place in the movie, [so] it was nice working on a film that can be considered an independent feature and watching the director have full control. You hire a director for his creative expertise. Let him be creative and call the shots."
When it came time go down south, where Mexico City would depict a ravaged Earth, Noval was prepared for what was ahead. "When I got the script, they had already scouted in Mexico and were clear as far as some areas that they were looking for to shoot later on," says Noval. "I thought it was going to be difficult because they liked places that were located in very poor neighborhoods that were dangerous and logistically complicated." Noval's first plan of action was to visit the filmmakers' chosen locales to get acquainted with the people in charge and check in with the proper authorities about the project. Xochiaca, which is just on the outskirts of Mexico City, became one of the most challenging locations for the shoot. The underdeveloped city is far from being an ideal Mexican vacation destination but it was the perfect backdrop for Elysium's ruined Earth, providing versatile options for the production.
The challenges came with making filming arrangements with Xochiaca's citizens. "[The negotiations] involved too many people, including several garbage recollection and waste management unions as well as different authorities from the country, locally and federally, that had to be on board with our film in order to shoot in this particular area," recalls Noval. "Too many people had to agree, [and] if one were to say no then we probably wouldn't have been able to work there." Like Fraser, Noval praised the director for his decisiveness when it came time to get things done. "For this project, I was lucky to have a director that was very clear on what he wanted," he says. "[Blomkamp] knew what needed, he explained it thoroughly, and he didn't change his mind. That's not something that you'll get from every director."
The production also worked with the Mexico City Film Commission to have a smooth production. "They were very helpful in helping sort out almost 25 percent of the locations that were in Mexico City," says Noval. "It was a good thing these locations were taken care of, because we really needed all the time we could get to fully scout and manage the rest that were set in areas that weren't managed by the city. We worked a lot on Estado de Mexico, which is located on the outskirts of the city and has many different municipal and state authorities to approach and no film commission."
All location managers will agree that maintaining a smooth production has a lot to do with having a decisive and collaborative director. "The locations were challenging but they would have been an impossible task if [Blomkamp] had not worked hand in hand with every department, as he did," says Noval. "It's great to be on a team that communicates. It's the best support you can get." Elysium is ready to blast into theaters and on IMAX screens on August 9.