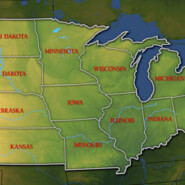 Midwest ups ante to help attract, keep filmmaking
from: SHOOTonline.com –
"More and more advertisers are interested in taking advantage of it," said Mark Androw of Chicago-headquartered production house STORY, which also maintains offices in New York and Santa Monica. The "it" Androw refers to is the Illinois Film Production Tax Credit Act which offers a 30 percent transferable tax credit on qualifying expenditures.
The incentive, continued Androw, has yielded tangible results. "Walmart is specifically making a concerted effort to shoot as much as they can in Illinois," he said. "STORY is fortunate to be the recipient of some of that work. Production companies from New York and L.A. are also coming into Illinois to do that work."
Furthermore, at press time, Androw noted that he had "a General Motors car package being shot in the state this week. The tax credit was largely responsible for that project happening here."
Underscoring the effectiveness of the Illinois incentive program is the fact that last year it was extended for 10 years, right through May 6, 2021. And just a couple of months ago, Governor Pat Quinn (D-Illinois) signed legislation (SB 1286) that expands the film production incentive to include "accredited animated productions" commencing on or after July 1, 2010, but credits may not be claimed for a taxable year ending prior to December 31, 2012.
There also continues to be no annual cap on the Illinois tax credits, which apply to feature films, TV, commercials, branded content and other projects. Qualified spend eligible for the credits include costs incurred for the purchase of tangible personal property or services from Illinois vendors, and the first $100,000 of compensation paid to each Illinois resident employee.
"The market here is quite busy and a good part of why is the incentives package," assessed Androw.
Michigan, Ohio
Illinois isn't the only Midwest state to up the incentives ante. Michigan, for example, doubled its annual cap from $25 million to $50 million starting with its next fiscal year which runs from October 2012 through September 2013. The incentive currently includes a 27 percent credit on direct production expenditures in the state, 32 percent for resident labor, 27 percent for above-the-line nonresidents, and 25 percent for below-the-line nonresident workers.
However, Michigan's incentives program does not apply to commercials.
Meanwhile Ohio has doubled the funding for its ongoing fully refundable tax credit which is 25 percent of eligible expenditures and nonresident wages, and 35 percent of wages for Ohio residents.
Effective back on July 1, the state's fiscal year funding cap for the incentive program doubled from $10 million to $20 million. (The per project cap remains $5 million.)
Feature films, TV, commercials, music series, web series, video games, virtually any media project are eligible for the tax credit.
Gail Mezey, liaison for the Ohio Film Office, noted that in fiscal year 2011, the full $10 million allocation got used up rather quickly, thus underscoring for legislators the need to significantly increase funding.
Adding to a compelling case for this increase has been the return on investment as reported by the Ohio Film Office. For example, since fiscal year 2010 to the end of the recently concluded fiscal year 2012, some $32 million in tax credits have been registered for projects that collectively spent an estimated $130 million plus in the state.
Among the notable contributors was The Avengers, which shot in Cleveland and Wilmington.
That superhero box office blockbuster earned $6.5 million in Ohio Motion Picture Tax Credits while spending $21 million in the state.
The doubling of Ohio's funding cap came shortly after the release of a Cleveland State University economic study showing that the motion picture tax incentive program returns $1.20 into the Ohio economy for every $1 invested by the incentive. Prepared by CSU's Center for Economic Development, the study reported that 1,143 full-time equivalent Ohio jobs and $35.5 million in household income are estimated to have been credited to the 27 projects that took advantage of the Ohio Motion Picture Tax Credit in the past three years.
In Northeast Ohio alone, the 16 projects that were shot exclusively in the region are estimated to account for 901 full-time equivalent jobs and $27.3 million in household income, according to the CSU study. Retail shops, restaurants, hotels, contractors, real estate agents, and rental agencies in areas of filming also showed increased revenue in conjunction with movie, TV and commercial production.
"Under one roof"
Also stimulating business have been individual companies responses to marketplace needs. "The 'all under one roof' kind of company that we at Optimus and a few of our brethren here in the Midwest have morphed into has altered the landscape dramatically," assessed Tom Duff, president of Optimus. "Offering live-action production in addition to editorial, design and all the postproduction services has proven to be amazingly efficient. We can simply produce and post more work within the modern day budget challenges.
"What is even cooler, though, is that it has also provided the opportunity for our creative artists and producers to become more necessarily collaborative in the strategic development of the work itself. We all need to be smarter to execute and deliver an even better creative product than ever before.  And by us being involved at the outset of the concept/idea/campaign, we can add our expertise on all aspects of the job, creatively and technically."
Duff further observed, "The work, many times, is so dependent on the process and the technology, both areas of expertise for us.   By being involved at the development stage, we can certainly add input from our directors, editors, and designers.  But we also have the internal resources to help plan in advance the appropriate technology to use in the case of, say, the need for the cross-use of media captured in camera. This provides the possibility of creating motion picture, print, billboard, in-store, and digital web assets all from the same shoot.  And we have internal resources on the post side to execute all of these.  All under one roof!"
The Optimus president then asked rhetorically, "Throw in the 30 percent Illinois production tax credit, and why would you ever leave the Midwest?"
Also offering diverse services is creative editorial house Whitehouse Post Chicago, which has counterpart offices in Amsterdam, London, New York and L.A., as well as sister visual effects and live-action companies in Carbon and Cap Gun Collective, respectively. This broad palette, related Dan Bryant, exec producer of Whitehouse Post Chicago, "has allowed us to fulfill a demand for producing diverse and multi-disciplinary content of the highest quality."
Bryant reported, "We have experienced a dramatic increase in Midwest business compared to last year.  This is likely due in part to a slowly improving economy, but we have also observed strong growth in the Chicago advertising industry in general, with consistently interesting work being created by advertising agencies for high profile, national and international accounts.
"While traditional commercial business continues to be strong, we have experienced the largest growth in longer form content that is targeted for desktop, social and mobile consumption.  Most of our broadcast commercial projects also include a variety of supporting media such as short films, pre-rolls and content for social media destinations."
As for his outlook, Bryant noted, "We are very optimistic about business in general and the Midwest market in particular.  Behemoth Midwest marketers such as Allstate, Kellogg's, Kraft, Sears, State Farm, Mars/Wrigley, Miller/Coors and McDonald's are producing stellar work, and our agency partners deserve a lot of credit for keeping this work vibrant, relevant and effective in a challenging economic environment."
Expounding upon Midwest agency work done at Whitehouse Post, Bryant cited several projects, including a Sears "Beach" commercial for mcgarrybowen which is "unexpectedly funny, but the humor is very much in service of the message, which is something at which I think Midwest agencies excel."
He added, "We have been privileged to work with Leo Burnett Chicago on the Allstate Mayhem campaign from the very beginning—this is a great example of partnering with Agencies over time to support them in creating the best and most effective work for their clients.  This is definitely a characteristic of Agency and Vendor relationships in the Midwest.  There is a lot of loyalty here, and that's a good thing."
Another long-time relationship has been fashioned with DDB Chicago on its McDonald's account, a recent example being the "Rivals" spot that ran during the London Olympics. Bryant further cited Skittles fare that Whitehouse edited for DDB, including four spots that went viral in a big way, as well as an offbeat comedy commercial titled "Walrus."
Opportunities
Melissa Thornley, Chicago managing director of Beast/Company 3/Method, sees opportunities emerging in the creative and media landscape.
"Now that integrated campaigns are the rule and not the norm, there are more opportunities to do more creative work," she shared. "Clients seem to be less risk averse as they've adjusted to the various media channels available to them.  Digital and broadcast teams are collaborating more and more leading to better ideas.  Board flow is expanding again and the quality is up from years past.  Agencies of all sizes are thriving particularly in the small to midsize range so our market feels incredibly diverse. You've got fantastic Allstate, Samsung, and Invesco work coming out of Leo Burnett while  Walton Isaacson is killing it with projects for Axe and Skinny Girl. Size doesn't matter. This level playing field has diversified where our talent is and how they're working. Fresh ideas are everywhere creating more range in the type of creative work. More visual FX boards are balancing out the comedy dialogue spots that are a Chicago mainstay.
"All of the above is cause for optimism," continued Thornley. "It's a great time to be in advertising and our 'new world' economy does not feel as bad as we thought it would.  What does give me pause is that we've proven we can make anything happen for our clients.  Just because we've done it once or twice, doesn't make it a sustainable business strategy.  Selling creative along with the logistic and financial parameters will allow for a healthier and more sustainable industry for all of us."
Thornley added, "Our best recent work has come from budgets big and small. [Beast editor] Paul Norling from our L.A. office came in to cut Kelloggs' 'Swimmer' for Leo Burnett. It is everything an anthemic Olympic spot is meant to be. Ivan Bird's footage literally takes your breath away.  [Sr. creative editor, founder of Beast Chicago] Angelo Valencia, has been working on the new Illinois Lottery campaign out of Downtown Partners. Each project furthers the notion that anything is possible in our everyday lives.  A viral campaign for Shout out of Ogilvy, shot by their creative director Brigg Bloomquist, expands simple moments and leaves us wanting more. Looking at a cross-section of work, there are both big name directors and agency creatives and producers all shooting fantastic footage.  Across the board, all of our recent work exemplifies cautious optimism.  Our market is strong and vibrant and its depth of talent is evident in the work we're producing."
Status quo
"As far as pockets of business and/or creative opportunities go, I don't think it's any different than it was last year at this time," said Tim McGuire, CEO and president of Cutters Studios. "Corporations are competing for market share and they're using advertising and social media to help in gaining that market share. Content is a large part of their strategy and that's what we provide the agencies, not only for television, but for cinema, internet, mobile, billboards, social media etc. During most productions, the agencies expect to capture elements for many of these mediums and look to any one or several of our brands to provide production, editorial, VFX/finishing, audio and interactive services for their content. That's where the growth is and that is what's significant. Our optimism is based on the continued and growing need for content in all mediums. What concerns us, are things that are out of our control such as budgets or an economic downturn that alters or delays an advertiser's plans, sending ripples through the entire creative community."
Cutters' recent work spans such clients as Fiat, Disney, Chevy, Cadillac, Allstate, Samsung, Oscar Mayer, Capital One and State Farm. "In order to work on all these products and the creative surrounding them, you need the talents of people to work on visual storytelling, comedy, dialogue, montage, visual artistry,  etc.," related McGuire. "We're not stuck with the Midwest stereotyped packaged goods label. We have that talent within the walls of Cutters Studios."
A recent Fiat job for The Richards Group, Dallas, "really renewed my faith in the concept of great talent winning out in the end," said McGuire. "In an industry that at times feels based more on who you know, it was a refreshing change to have an agency put so much time and effort into finding the very best creative option for their project. Here's the story…A producer at The Richards Group was viewing director's reels looking for a director for her project. On one of the reels, she came across a spot that was so incredibly well edited she knew that this editor was the right person for the project. The only problem, it was late on a Friday night and there were no credits listed on the reel. The producer went to the extra time and trouble of tracking down the name of the editor. Once she found out the editor's name, she called our producer, Sasha Grubor, that evening in our L.A. office inquiring if editor Chris Hafner worked with Cutters Chicago.
"Sasha informed her that Chris was indeed a Cutters editor. The producer then told Sasha how blown away she was by his work and would love to consider him for her upcoming Fiat project. The only hitch was, they were deep in the bidding process and needed an estimate as soon as possible. Sasha cranked the bid out over the weekend and got it to the producer. The producer shared Chris' work with the creatives on the project. They all agreed he was the right editor for the job… We were awarded the project that Tuesday.
"It is rare nowadays," concluded McGuire, "that a creative team will choose an editor sight unseen based solely on his work. It was a remarkable leap of faith.  I give a ton of credit to that producer for taking the time and energy to look outside the box and base her decision purely on talent and what was best for the project. Like I said…it renewed my faith."