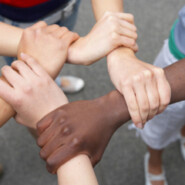 Minorities In Production, Part II: Reflections, Observations
from: ShootOnline.com –
Ten years ago, SHOOT connected with Dana Satterwhite, then an associate creative director at Arnold Worldwide, Boston–not just to discuss his notable copywriting on Volkswagen but his mentoring efforts as part of Spectrum Speakers, a diversity outreach program which at the time had him introducing the ad business to a talented young design major at Clark University, a noted African-American college in Atlanta.
Fast forward to today and that student is now an established industry professional in New York. Satterwhite has since moved to Las Vegas where he continues as a freelance creative after a successful tenure at Sanders\Wingo, an African-American urban agency in Austin, Texas.  Satterwhite is also part of the emerging arts community in Vegas, maintaining as a side gig his own art gallery, Tasty Space, with offerings spanning film, the fine arts, street art and other forms. Though he's no longer part of Spectrum Speakers, Satterwhite individually continues to mentor promising young talent for the ad business and via his art gallery.
"I like playing that role, helping talented young people–ethnic minorities and others," related Satterwhite. "It's important to cultivate creativity and a richer culture, to learn from each another. And my hope is that by providing a positive influence, introducing youngsters to possibilities in the advertising and art worlds, these people when they grow professionally will in turn do the same, opening up new worlds and extending opportunities to others."
Satterwhite believes that diversity and inclusiveness are essential to a healthy culture and industry. While some progress has been made over the past 10 years, he still feels that minority representation is still low in the ad creative community. He estimated that back when he was involved in Spectrum Speakers, African-Americans accounted for about one percent of the agency creative population.
"My best guess is that maybe we're at two to three percent," conjectured Satterwhite. "Things have improved but they are still far from being a fair reflection of what the general population is, anywhere from 12 to 13 percent for African-Americans. We're coming off a national election where it's been cited that middle-aged white males are now in the minority. Somewhere, somehow the population of our industry should reflect the population of our nation. My hope is that my efforts and those by others on a grass-roots level will have an impact–and that eventually we can better reflect the makeup of our society and get beyond this discussion of diversity. It's important we mentor young talent, make them aware of opportunities and help them access those opportunities–whether or not they are ethnic minorities. We still have a long way to go. "
Primetime TV
Relative to attaining diversity, there's certainly much room for improvement in television, according to a Directors Guild of America (DGA) report released a couple of months ago (SHOOTonline, 9/27) analyzing the ethnicity of directors on primetime episodic TV across broadcast, basic cable and premium cable.
The DGA analyzed more than 3,100 episodes produced in the 2011-2012 network television season and in excess of 190 scripted series in the 2011 cable television season. The report showed that Caucasian males directed 73% of all episodes; Caucasian females directed 11% of all episodes; minority males directed 13% of all episodes and minority females directed 4% of all episodes.  Among one-hour series, Caucasian males directed 76% of all episodes, and in half-hour series, Caucasian males directed 69% of all episodes.
In designing the parameters for this year's report, the DGA made several changes to its methodology and data collection to improve accuracy and make it easier to compare data to other years.  These changes included defining specific start and end dates for each television season production cycle; capturing more DGA-covered episodes; implementing additional automated calculation procedures; and clarifying, in cooperation with the companies, the status of directors whose ethnicity or gender had previously been identified as "unknown."
As a result of these improvements, the DGA was able to improve the data for the previous 2010-2011 television season to more accurately report the statistics.  The data now shows that in the 2010-2011 television season, Caucasian males directed 72% of all episodes (not 77% as had been reported); Caucasian females directed 11% of all episodes (unchanged from the 11% that had been reported); minority males directed 14% of all episodes (up from the 11% that had been reported); and minority females directed 3% of all episodes (up from the 1% that had been reported).  The changes in data are a result of capturing nearly 300 additional episodes for the season and more accurately identifying the diversity status of the directors.
Comparing figures for 2011-2012 with figures for 2010-2011, this year's report shows that the percentage of episodes directed by Caucasian males increased slightly, from 72% to 73%; the percentage of episodes directed by Caucasian females remained the same at 11%; the percentage of episodes directed by male minorities decreased from 14% to 13%; and the percentage of episodes directed by female minorities increased, from 3% to 4%.
Per the DGA study, overall statistics for episodic television indicate that little has changed since last year.  Too many shows failed to reach even the low threshold of hiring women or minorities for at least 15% of episodes in a season.
The Guild's African American, Asian, Latino and Women's Committees continue to hold meetings and networking events with producers, networks and studio representatives to introduce talented directors to key producers and TV executives.  Additionally, several diversity programs that were established years ago by TV production companies, at the urging of the Guild, continue to give women and minority directors exposure to executive producers and others who make hiring decisions, but these programs have not yet made any demonstrable difference.
Over the past two years, DGA executives and members of the Diversity Task Force held more than a dozen meetings with production companies specifically to address diversity in hiring.  The meetings highlighted the fact that many companies feel more comfortable continuing to hire directors with whom they are already familiar, perhaps explaining why diversity statistics have remained relatively stagnant.
"Our industry has to do better," said Paris Barclay, the DGA's first VP and co-chair of the Diversity Task Force of the DGA National Board. (Barclay is also an executive producer for Sons of Anarchy and won a DGA Award and two Emmys for directing NYPD Blue along with multiple other nominations.)  "In this day and age, it's quite disappointing that so many shows failed to hire even a single woman or minority director during the course of an entire season–even shows whose cast and crew otherwise is notably diverse.  And, 'We just don't know anybody,' doesn't cut it anymore–the pool of talented and experienced women and minority directors grows every year, and too many of these qualified, capable directors are still overlooked."
The DGA maintains a contact list of experienced women and minority directors to make it easier for producers making hiring decisions.  The list can be obtained by any production company by contacting the DGA.
"Like any director working today, I started out when somebody took a shot at hiring me," said Lesli Linka Glatter, board member and co-chair of the Diversity Task Force of the DGA National Board. (Glatter won a DGA Award and was nominated for an Emmy for directing Mad Men, and this year has directed episodes of The Newsroom, Boss, True Blood, Homeland, Walking Dead and Nashville.)  "It's how we all start out — male, female, white or minority.  As somebody who has been an executive producer on a television series, I can tell you that increasing director diversity is as simple as hiring more women and more people of color.  It's time that every producer, every showrunner, every person responsible for making hiring decisions in episodic television take a careful and honest look at their hiring practices and ask themselves how they can do better."
Optimism
Moving back to the ad community, sounding a note of optimism was Dora Medrano, co-owner and executive producer of Carbo Films, who participated in this week's SHOOT survey of minority execs and artisans in the business.
"While I think there's still a long way to go, I do think we are on the right path in this industry," said Medrano. "For instance, we never set out to open a 'female-owned' or 'Hispanic' company. We are filmmakers and producers; female and minority just happens to be who we are, it's our DNA. And while historically there has been an underrepresentation in our industry, there are also initiatives at the agency and client level to try to help correct that. General Mills, for instance, has done a great job in being committed to diversity through their agencies. They've literally put their money where their mouth is on this issue. So, again, I think things are moving in a good direction."
Feedback
As for that alluded to SHOOT survey, various questions were posed to ethnic minorities who have established themselves in different sectors of our industry. The feedback comes from strong voices articulating thoughts on the state of minorities in business today as well as personal reflections and observations.
Here is the full list of questions that were asked:
Professional:
• Do you own the company? If so, what year did you launch it?
• If your business model has changed over time, please briefly tell us about it.
• How did you get your start in the business?
• What was the biggest challenge or obstacle you faced as you made your ascent in the industry?
Opinion:
• What do you think would be the biggest challenge or obstacle if you were just starting out today? Would it be easier or more difficult (and why?) to establish yourself professionally and to attain your current role as an executive, creative exec or artist?
• Why is there a shortage of ethnic minorities in the advertising and entertainment production community? In what roles is the shortage most profound? Directors? Producers? Executives? Creatives? DPs? Editors? Post artisans? Music/sound? Other? Or do you not agree that there is a shortage?
• And if so, how can the industry improve the situation? What steps can be taken to rectify such a shortage?
• Do ethnic minorities already established in the business have a responsibility to help create opportunities for other ethnic minorities?
• What are the advantages (from a business perspective and/or a creative perspective and/or moral perspective) to the industry being more inclusive?
 Personal:
• Are you married?
• Do you have kids – how many, how old?
• Can you share a poignant or funny career story?
• What's the biggest challenge in balancing your professional and personal life?
• If you could have a do-over, what career would you pick for yourself?
• We all hope to retire some day. What do you want to do in retirement/where would you live?
Click here to see part 1 of the survey responses from Carlos Guiterrez of Magnet Filmworks, Wendell Hanes of Volition Sound Branding, Malcolm Hardiman of Hack Studios, Eric Johnson of Trailblazer Studios, Jackie Lee of Company 3, Dora Medrano of Carbo Films, Jo Muse of Muse Communications, and Juan Pablo Oubina of Grupo Gallegos
Click here to see part 2 of the survey responses from Bernadette Rivero of The Cortez Brothers, Elena Robinson of R/GA, Erika A. Salter of Salter Entertainment Group, LLC, and Paula Walker of Strato Films.
For Women and Minorities in Production, Part I, click here.
For Women In Production, Part 1 of Survey responses, click here for respondents Cristina Anderlini, Shannon Barnes, Elizabeth Cogswell Baskin, Laura Belsey, Fay Dattner, Madeline Di Nonno, Nicole Dionne, and Lesli Linka Glatter.
For Women in Production, Part 2 of Survey responses, click here for Bonnie Goldfarb, Jennifer Golub, Samantha Hart, Phyllis Koenig, Leslie LaPage, Kathrin Lausch, Terry Lawler, and Lola Lott.
For Women in Production, Part 3 of Survey responses, click here for Stacey Mokotoff, Ramaa Mosley, Mardrie Mullen, Liza Near, Valerie Petrusson, Susanne Preissler, Michelle Ross, and Ethel Rubinstein.
For Women in Production, Part 4 of Survey responses, click here for Lauren Schwartz, Rhea Scott, Shari L. Shankewitz, Liz Silver, Jo Steele, Cami Taylor, Monica Victor, and Jessica Yu.