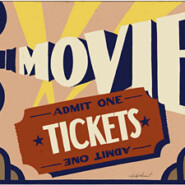 Movie Attendance Likely To Drop In 2013, And Beyond: Report
from: David Lieberman, Deadline.com –
Bond analysis firm Fitch Ratings offers its bracing analysis of the movie exhibition industry a week ahead of theater owners' annual CinemaCon trade show in Las Vegas. The company forecasts a "modest" decline in 2013 ticket sales and long term challenges that should "cause concern" for lenders.
Studios will find it "difficult to replicate" the success they had last year with hits including The Avengers and The Dark Knight Rises, analysts Shawn Gannon, Rolando Larrondo and Mike Simonton conclude. In addition the 3-D market is "starting to mature." Consumers "are focused again on the overall quality of the film and are weighing the cost of a premium ticket versus a base 2-D ticket." A drop in 3-D sales might offset an expected low single digit increase in ticket prices.
Fitch also expects concession revenues to be flat, with the drop in attendance wiping out price increases, although ad sales should improve. Long term, the analysts say that they're concerned about improvements in home video and increased piracy, as well as rising ticket prices. Over the next several years "patrons may become more selective in the films they view at the theaters versus those they are willing to view at home."
Any drop in revenues could hurt because "many operators maintain high debt levels, combined with fairly high levels of capital expenditures" to keep their equipment and facilities up to date.