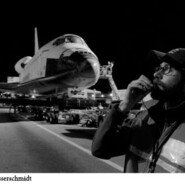 Production Crews Embrace New Technology
from: James Thompson, P3update.com –
Sophisticated film audiences and the industry's adoption of digital workflows have directors seeking new and exciting ways to tell their stories. While many see the learning curve of the digital movement as an obstacle, others are accepting the challenge to reinvent themselves while creating new possibilities.
The industry's need for product in this new digital age has led to new work by innovative visual storytellers. The support teams behind these visionaries are stepping up to the plate by thinking outside the box to streamline workflows and take storytelling to a new level. One such person is J. Patrick Daily, whose resume as a first- and second-unit key grip boasts films like The Bourne Legacy and Gangster Squad. As a result of the fast-paced lifestyles of moviegoers combined with today's smaller cameras, Daily saw more filmmakers creating excitement by significantly moving the camera during production, especially with cranes. While the Louma crane and Techno cranes have been around for a while, telescopic cranes are now an essential part of major productions. In sizes ranging from 13 feet to 75 feet, telescopic cranes are seen on large and small sets alike. Daily is also a stunt automation rigger who has added flying cameras to his arsenal, with wire-cable flying as his specialty. "You can fly cameras in a way and move cameras at a speed in which it was just unheard of in the past," says Daily.
Daily recalls how an amazing, climatic chase sequence was rigged and filmed for The Bourne Legacy shoot in the Philippines. The sequence was exceptionally difficult because it involved chases on foot, motorcycles and in cars. "It was all really fantastic stuff," enthuses Daily. "It was tough, hot, sweaty and dirty, but it was a lot of fun." Daily's three-man team of experienced riggers worked with approximately ten local workers for 45 days of prepping for the shoot. After setting up 12 flying camera rigs and a 30-foot Techno crane, the filming was very technical as it kept a five-camera crew busy creating spectacular chase sequences. "We were mounting 5Ds, using tube-and-cup link scenarios, all prototypes that we created," says Daily. "Now that cameras have gotten smaller, the rigging can get smaller. We couldn't get cranes in, so we built different towers to carry the wire-flying camera rigs that we had flying around." Daily clearly loves his job and is grateful that he can be such an asset when creating spectacular movie scenes that leave film audiences in awe. "I've always been one of those guys on the cutting edge of technology," he says. "I decided that I want to keep working, so I stayed on top of it and it's proven to work out for me."
Changes in production lighting have also had a major influence on capturing content. If you ask any great cinematographer what makes a great visual film, most will say lighting. Gaffer Erik Messerschmidt ("Bones," Lovelace) has worked with many notable DPs, including Tami Reiker, ASC and Claudio Miranda, ASC. While Messerschmidt embraces digital cinematography, he feels that camera and lighting choices should be up to the filmmakers because the look is important on major features. "It's more of an aesthetic choice than an economic choice," explains Messerschmidt. "If you can do a movie in an environment where the available lighting works for you on a night exterior, then often it's better not to light it because it looks more real; it looks more in the style of what you're trying to achieve. If you're in the middle of the woods and you need to see trees at night, then you're going to have to light it with some big lights. I don't think that is going to change. I don't think we're going to get to a point where we are out there working exclusively with moonlight. It's really all about creative choices. We're really sort of in an exciting time because a DP's creative choices are now expanded, [and] they are able to take advantage of natural lighting situations." Messerschmidt is currently learning about camera sensitivity and new lighting equipment. "We are certainly using smaller fixtures," he says. "Because of more sensitivity of the camera, the faster lenses that are now available, [and there are] sharp, fast lenses with more latitude. There is some really exciting technology going on."
For gaffers and electricians, the biggest change has been the introduction of LED lighting. Everyone in production will soon know the tremendous cost savings gained from LED technology, which extends to saving power consumption, manpower and distribution. The days of having huge generators and large air-conditioning units are going by the wayside. Efficient LED lights use normal-ranged power consumption or battery power. They're also cool, lightweight and are controllable through DMX. And as technology improves and costs drop, more gaffers and electricians will embrace the change. Messerschmidt has noticed how camera batteries and LED technology can work well together. "There are a lot of sources that you can work with that you don't need any cable at all," he says.
Needless to say, manufacturers are moving fast to create these new lights. "There are so many fixtures out there, especially in LED, so it's hard to predict which ones are going to take off," says Messerschmidt. "I try to demo stuff when I can. I still use Litepanels a lot [because] I think it's a real solid product. It's so heavily R&D, and there's a lot of accessories." For lighting large projects, Messerschmidt will go with big lighting companies like MacTechLED. "I like the MacTech lights [because] they're super bright," he explains. "They have a lot of inventory. If you're lighting backings or trans-light or a syc, or if you need a big overhead soft source, I think they're a good tool to use."
Messerschmidt also likes working with ARRI lights, especially the ARRI Daylight 1800W. "It's nearly the output of a 4K. I think it's spectacular," he says. Messerschmidt also uses a lot of light ribbon, an expendable comprised of an array of LEDs and adhesive backing. "We make a lot of our own fixtures with that stuff," he notes. "We use it a lot on a per-application basis. I did the pilot for the TV show 'The Following' in Atlanta, and we did a lot of roving camera work. The show [involved] a lot of handheld [cameras] and working very quickly, so we built some panels out of the light ribbon and we stuck them to walls and taped them up in the ceiling. We built some rigs that we could tape to the cameras and adjust wirelessly from video village."
As producers take more shows on the road, department heads can find themselves working with unfamiliar crewmembers that aren't up to speed on the latest techniques. However, international crews are now becoming savvy as they adapt to new methods. "It's a matter of missing the people that you are used to working with all the time," Messerschmidt explains. "The techniques that I use may be completely different than the techniques of any other gaffer they have worked with. So much of gaffing, especially on high-end shows, becomes a lot about budgeting and finding the tools that will achieve what you are trying to do economically from a practical point of view."