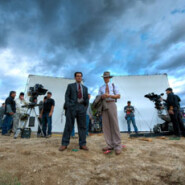 Production Incentives Boost Economies and Production Power
from: James Thompson, P3update.com –
Since the early 1990s, the offering of production incentive has been the most logical way to attract film and television productions to a community — and the lack of financial perks could lessen the chance of boosting these local economies. These incentives mainly consist of tax benefits from local governments to encourage production in their region. They first surfaced in response to the flight of U.S. film productions to other countries, including Canada which adopted its own production incentive program. U.S. states have since offered increasingly competitive incentives to lure productions away from other locals, with the type, size and structure of these incentives varying from place to place. Many incentive packages include tax credits and exemptions, while some offer other perks like cash grants and fee-free locations.
Advocates of incentive programs point to increased economic activity and job creation as justification for the offering of credits. Various studies of the costs and benefits of incentive programs show different levels of effectiveness. Louisiana is reportedly the first state to offer an incentive in 1991. In 2002, legislation was passed to further increase the extent of the incentive program, and, over the next three years, Louisiana experienced a substantial increase in film and television productions. Louisiana's success did not go unnoticed: the number of states offering film incentives grew from five in 2002 to a substantial 40 in 2012, while the number for international territories has surpassed 30. Critics suggest that the competitive growth is similar to an arms race: local governments continue to increase the scope of incentive packages to maximize individual benefits while also competing on an international level.
"I don't think anything happens without having an incentive," says Betsy Steinberg, managing director of the Illinois Film Office. "Places that don't have an incentive unfortunately don't have a seat at the table right now." Illinois had seen its film production activity fall considerably, but its 30-percent film-tax credit is now generating increased interest from filmmakers. The state currently has numerous projects in production, including the NBC series "Chicago Fire," three television pilots, and three sci-fi feature films: Divergent (starring Shailene Woodley and Kate Winslet), Jupiter Ascending (starring Channing Tatum and Mila Kunis) and Transformers 4.
In today's competitive production environment, incentives play an important economic role as they help producers to keep costs in line. Director Sam Raimi prefers to shoot in Los Angeles but he went all the way to Michigan to helm Disney's Oz the Great and Powerful, even though filming would take place in a studio facility. Michigan's main draw was a 40+-percent tax credit that reduced the picture cost by more than 13 percent, which is substantial considering that the film cost more than $200 million to make. Like Raimi, Disney's Senior VP of Feature Production Jerry Ketcham knows how important production incentives are when it comes to selecting a location. "[Incentives are] very important," says Ketcham. "We first service the story from a list of incentive countries and states. [We also see] what reduces the bottom line the most, but we also consider the best infrastructure, crew, stages, equipment and weather." Ketcham is currently taking advantage of Georgia's film incentives by having Atlanta double for Los Angeles for a film project, while the real L.A. will be utilized for establishing shots. He offers some advice for producers researching incentives and places to film. "Producers should speak to other producers who have shot there, [and] find out how many films will be there when you are planning to shoot," he says. "And get information about their weather, union issues, flights, hotels and long-term living places. And be sure to check if the incentive is a transferable tax credit; [and check] how easy it is to sell and what is the prevailing rate."
California has upped its incentives game by establishing the Film & Television Tax Credit Program, which provides credits against income and/or sales-and-use taxes on qualified expenditures. Enacted in 2009, the original five-year, $500 million program has served more than 200 projects. The current program offers $100 million a year in tax credits to eligible projects, and it has recently been extended for an additional year (through fiscal year 2014–15). According to California Film Commission Executive Director Amy Lemisch, the program has succeeded in attracting cable TV series, midsize feature films and TV movies. "It has helped us stay competitive and retain these and other types of productions in-state," reports Lemisch. "When all of these projects have wrapped production, they will have spent a total of $3.9 billion in California, including $1.3 billion in below-the-line wages alone. This generates a substantial boost to our economy." The city of Los Angeles plans to end its decline in film production with the help of the Los Angeles City Council, which will waive permit fees for all pilot productions and first-year filming in L.A. The Council is also looking at ways to cap a tax charged to broadcast companies.
"Let's see how long the incentive stays in various state legislatures when they're looking for money and everyone is cutting their state budgets back," says Executive Producer Kevin Halloran (Red Dawn). Halloran recently filmed Parental Guidance with Billy Crystal in Atlanta, were the incentive saved the production approximately $5 million. He also scouted and budgeted a movie to film in Mexico, South Africa, New Mexico and Puerto Rico. "You budget out all these different places and you scout them to see if you can shoot the movie there," explains Halloran. "It's not necessary that you go to the least expensive place, but generally you do because you have to hit a number." Halloran notes that Entertainment Partners (EP) is a good source for researching production incentive offerings, as the company's easily searchable site stays updated. EP is a leading provider of production services, such as payroll, software, residual administration/processing, extras casting and incentive services (including consulting, production administration and production tax-credit placement. The company takes steps to maintain accurate tax-incentive information and also supplies an international list of jurisdictions, offering competitive incentive programs along with details on local laws, processes and funding.
Certain municipalities will offer other types of perks in addition to tax incentives. The Montana Film Office created a grant to provide seed money for qualified productions filming in the state. Grant dollars may be awarded to selected features and TV productions that shoot at least 50 percent of their project in Montana; or to productions that spend a minimum of $300,000 in the state. The grant is separate from the state's tax incentives (14 percent back on Montana crew and talent salaries; 9 percent back on qualified production-related Montana expenditures), but they may be packaged together to fully capitalize on a production in the Big Sky State.
Production incentives are also plentiful outside of the U.S. mainland. Puerto Rico hired Demetrio Fernández, a new film commissioner with a filmmaking and law background who will help manage an incentive program. Fernández reports that Puerto Rico recently enacted legislation extending the 20-percent production tax credit to all non-resident below-the-line individual spending. "This complements the already existing 40-percent tax credit on all Puerto Rico-resident individual and vendor spending, as well the 20-percent tax credit on nonresident above-the-line individual spending," says Fernández. "We continue to support the Hurricane Insurance Program, which offers productions incentives for shooting in Puerto Rico during hurricane season [which runs from June 1 until November 30]." Associate Producer Luillo Ruiz (The Men Who Stare at Goats) also sees tax incentives as important part of filmmaking, and says that Puerto Rico's tax program offers a very straightforward and speedy process. "Film is a very competitive market and having soft money on the equation always lowers the risk," says Ruiz. "Plus, with the incentive there's always a financeable portion that you can use on your budget to make your film."