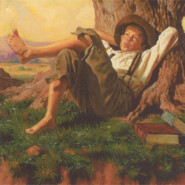 Runaway Production at its Worst
from: Stop-Runaway-Production.com –
William Faulkner called Mark Twain "the father of American literature" and Twain's "The Adventures of Huckleberry Finn" is considered one of the greatest American novels ever written.  Twain grew up in Hannibal, Missouri, on the banks of the Mississippi River.  Hannibal (which is portrayed by the fictional town of St. Petersburg in Twain's stories) served as the setting for the beloved stories about Tom Sawyer and Huckleberry Finn.  The local color and regionalism of Hannibal and the American South permeates Twain's writings and is every bit a character in Twain's books as Tom or Huck.  Indeed, "The Adventures of Huckleberry Finn" is one of the first works of American literature to be written in the vernacular, characterized by the local culture of the time and place Twain lived (at least according to wikipedia, which I will trust on this one).
In one of Twain's many memorable quotes, he explained why storytelling is best done by people who live in a certain place rather than those visiting:
A foreigner can photograph the exteriors of a nation, but I think that is as far as he can get. No foreigner can report its interior — its soul, its life, its speech, its thought.
Following Twain's reasoning, it seems that in order to capture the "soul" of one of the greatest works of American literature on film would require an American crew shooting on-location in one or more of the Southern States in Twain's novels (Missouri, Mississippi, Louisiana, Alabama, etc.).  And, until 2011, many on-screen adaptations of Twain's books adhered to this.
In 1975, Ron Howard portrayed Huck Finn in ABC's made-for-television film Huckleberry Finn, which filmed in Missouri.  In 1993, Stephen Sommers directed Elijah Wood in Walt Disney Pictures' The Adventures of Huck Finn, which shot entirely on-location in Mississippi.  Sommers then went on to write the screenplay for Walt Disney Pictures' 1995 film Tom and Huck, which shot entirely in Alabama.   Before the era of  large film incentives kicked off in Canada in the late 1990s, creative concerns carried equal weight with the economic ones when deciding where a project filmed.  Since that time, however, locations are almost exclusively selected based on the issue of cost, not creativity.  And with the availability of states and nations offering incentives that effectively subsidize anywhere from 20-50% of the budget, it's easy to understand why.  But hope springs for those wanting to see a return to locations being selected to serve the needs of the story first and budget second.
With the current availability of popular and generous film incentives in places like Missouri, Mississippi, Alabama and Louisiana, one might think the time was ripe for a new big-screen adaptation of Twain's quintessentially American masterpieces featuring the adventures of Tom and Huck once more.  The creative desire for authenticity could be met without compromising the bottom line.  If anything, a film about Tom Sawyer and Huckleberry Finn is exactly the type of project one of these states would want most.
Earlier this summer, things looked promising when it was announced that  Joel Courtney, whose break-out performance in J.J. Abrams' Super 8 turned heads in Hollywood, was cast as Tom Sawyer in writer/director Joe Kastner's forthcoming movie, Tom Sawyer & Huckleberry Finn.   Despite the availability of lucrative tax incentives in the aforementioned states, the movie is not filming in any of them, or anywhere else in the nation for that matter.   Regrettably, the new film is shooting in the East European nation of Bulgaria, once part of the Soviet Union.  Clearly, artistic concerns and a desire for authenticity–much less any attempt at satisfying Twain's notions of storytelling–have gone out the window.  This begs the question, can the desire to save money go to far?
A production that chooses to shoot in another US state or Canada to save money may not be cheered by Los Angeles film crews, but most understand it's often a necessary business decision in a high-stakes industry.  California may not want productions to go to such locations, but most usually understand why and (for the most part) don't hold grudges.  When a production chooses to leave California for another state, it's often a smart and sensible business decision, not an unethical one.  After all, a project shooting in Louisiana is subject to the same federal labor rules and regulations and the film crews there benefit from the same high wages and benefits enjoyed by crews across the nation.  In short, productions are going to states like Louisiana to exploit taxes, not people.  Bulgaria, however, does not offer film incentives for a production to exploit.  So why are they filming Tom Sawyer and Huckleberry Finn in Bulgaria?
As the Los Angeles Times recently reported,  thanks to the efforts of Los Angeles filmmaker Avi Lerner and his company, Nu Image, Bulgaria is now the "go-to destination in Eastern Europe":
On the outskirts of Sofia, the capital of Bulgaria, a 75-acre former communist-era studio will soon draw a contingent of Hollywood heavies including Sylvester Stallone, Mickey Rourke, Bruce Willis and former California Gov. Arnold Schwarzenegger.

The testosterone-heavy ensemble will gather at Nu Boyana Film Studios on Sept. 19 to begin filming the second installment of "The Expendables," the hit movie about an elite group of mercenaries that garnered $275 million at the box office last year.

The $100-million movie is the latest large-budget feature to film at Nu Boyana Film Studios, which has become the go-to destination in Eastern Europe for Los Angeles-based filmmaker Avi Lerner since his company Nu Image acquired the sprawling complex in 2006…

Nu Image has poured tens of millions of dollars into upgrades to the formerly state-owned studio, which was built in 1962 and produced as many as 25 feature films per year during the communist era but fell into disrepair after the collapse of the Soviet Union.

The studio now employs about 1,000 workers and has 13 sound stages, with the largest more than 6,500 square feet, as well as a replica of several downtown Manhattan streets and a faux ancient Rome, complete with a coliseum.
According to a 2005 Los Angeles Times article, the reason Eastern Europe is cheap is that it is largely "unregulated".  In Romania, for example, workers do not qualify for overtime wages until they work more than 72 hours in a week.   According to one producer, the average daily rate for a production driver in Los Angeles was around $470 in 2005 whereas in Romania it was less than $10.  On the set of 2003′s Cold Mountain, it cost the film more for the use of animal livestock than it did to pay the local actors.  According to the 2005 article, "studio executives are loath to say aloud" that one of major benefits of shooting in places like Eastern Europe was few, if any, unions or watchdog groups to enforce safe working conditions.
Conditions in Bulgaria may be even worse than Romania.  According to Lerner, Bulgaria is "the least expensive country in Eastern Europe to shoot in."  In short, it's possible the Bulgarian film workers are paid even less than the $10-per-day Romanians received.  For the Bulgarians working on Tom Sawyer and Huckleberry Finn, the notion of "slave wages" takes on new meaning.  And the situation is not without irony.  In Twain's "The Adventures of Huckleberry Finn", Huck and Tom are committed to helping a runaway slave named Jim escape to a free state in the North because Jim's owner wanted to sell him "downriver" to harsh conditions for $800.  Sadly, poor Jim would have fetched more for his labor in the 1860′s than many of the Bulgarians working on Tom Sawyer and Huckleberry Finn will be paid in 2011.  
At what point do smart and sound decisions motivated by a desire to reduce cost start to look more like unethical decisions motivated by greed run amok?  If no laws are being broken, does this distinction matter?  In the American South, slavery was legal and, in Twain's opinion, unethical.  Filming Tom Sawyer and Huckleberry Finn in Bulgaria goes against Twain's ideal standard for storytelling, but is certainly legal and may be as ethical to many as it is unethical to others.  However, going to Bulgaria to exploit cheap labor with slave wages in unregulated working conditions seems to run counter to everything "The Adventures of Huckleberry Finn" stood for.
Whether or not the low wages and the lack of filmmaking experience among the Bulgarian crew translates into a noticeable difference in the quality of the finished product remains to be seen.  In certain cases where the cast and crew are passionate about the project they are working on and the story they are helping to tell, low wages and relative inexperience can be offset by dedication; a labor of love, so to speak.  Had the producers elected to film Twain's quintessentially American film in the places where it is set, celebrated and loved, the chances of staffing a crew that shares such a passion is probably 100%.  Twain's books are required reading in almost every public school in the United States.  And for the school children who avoided reading about Tom and Huck in class to go to Disneyland, they were exposed the iconic River Boat in Frontier Land that bears the writers name as it circles the popular "Tom Sawyer's Island", which can only be reached, of course, by a Disney riverboat.  Mark Twain and his imagination are part of America's DNA.
The chances any of the Bulgarians working on Tom Sawyer and Huckleberry Finn have read, much less love, Mark Twain's books is slim to none.  It's doubtful they would even know, or care, who Mark Twain is.  What are the chances Bulgarians know about the history of slavery in the American South?  The US Civil War?  The riverboat culture on the Mississippi River so adored by Twain?  If they have no knowledge of such things, much less a basic understanding or appreciation of the distinct culture on display in Twain's work, the chances there will be a "labor of love" effect to offset poor wages and lack of experience is almost zero.
This is one of the most disgusting examples of runaway production I have ever seen.