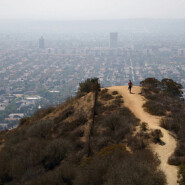 Runyon Canyon Road Improvement Project
FilmL.A. has been notified that the City of Los Angeles Department of Recreation and Parks plans to close a section of Runyon Canyon Park for the Runyon Canyon Road Restoration Project which begins March 11, 2013 and is expected to be completed by April 5, 2013.
Improvements will be made on Runyon Canyon Road starting at Vista Street and ending just below 3054 Runyon Canyon Road. A map of the area has been attached to this publication. The park will be closed to visitors and to film production until construction is complete.
FilmL.A. is available to answer any questions about filming at parks in Los Angeles City and or L.A. County. For immediate assistance, please contact FilmL.A.'s Production Planning Team at (213) 977-8600