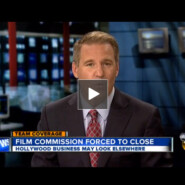 San Diego Film Commission to close its doors
Funds promised by mayor have not materialized

SAN DIEGO – The three-person staff that is the San Diego Film Commission will be out of work as of July 31.
"We don't have the funding to continue, despite what was promised," said Rob Dunson, director of film production.
The commission is a one-stop center for production crews looking to use talent, technicians and locations in San Diego.
"If we have to close our doors, I don't even have a referral number for them because we don't know what the city is going to do," said Dunson.
The commission is funded by the port, county and city, but funds promised by San Diego Mayor Bob Filner earlier this year have not materialized.
"He said we're going to restore the film commission, we're going to take care of them and that never happened," Dunson said.
Dunson had scheduled a meeting with the mayor to talk about this but it was canceled when Filner suddenly went to Paris.
"We had 420 projects that worked here last year generating an economic impact of over $9 million," Dunson said.
Unless there is a last-minute miracle, the commission will shut its doors as of midnight Wednesday.