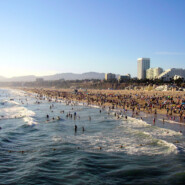 Summer Filming/Parking Restrictions – Santa Monica
The City of Santa Monica has informed FilmL.A. that it plans to impose restrictions on filming activity and production related parking within the Santa Monica city limits. Filming restrictions will be in effect May 24th through September 1st, 2014.
During this period, filming is restricted at the beach on weekends, this includes still and motion activity. The bike path will also have restrictions for filming from Memorial Day weekend through Labor Day weekend. Filming on Ocean Front Walk will be permitted on a case-by- case basis. Filming will not be allowed on beaches or on beach parking lots on Memorial Day, July 4th or Labor Day weekend.
Restrictions to production related parking be in effect May 17th through September 1st, 2014. The moratorium affects the Main Street Commercial area. Production related parking will not be allowed on or within the area of Pico Boulevard, Nielson Way, Marine Street and Second Street.